March 21, 2020
Hello friends,
It's been a few days since we have been experiencing a kind of forced confinement. We are all indoors and most of the other beings are outdoors. They are having a natural life; while we one species, human species is confined to stay indoors.
There is a big lesson to learn here. I can see that we are all busy praying that the situation ends. But we should be busy taking oaths and vows to change the way we live on this earth. That's the most important thing today. We have been living unconsciously, insensitively: using, abusing, misusing the natural resources without any remorse, without any guilt and the nature is paying back. Nature is giving us a choice, a chance to think, to understand, to change. So, this situation is not an ordinary situation.
World War III
They said that the world has never experienced such a standstill since the World War II. So, this could be considered as a World War III. But the World War III is not between human beings. It's between human beings and nature. This is nature's practical joke. It's a practical joke. Nature put all of us inside, bound by fear and asked us to think, asked us to realize what we have been doing. What is the result of that? It is our insensitive lifestyle, our unconscious activities and our lack of understanding plus disconnection from the whole existence outside. So, nature is giving us a chance and a choice to understand and correct. So, this is not exactly the only the time for prayers; this should be the time for reinvention.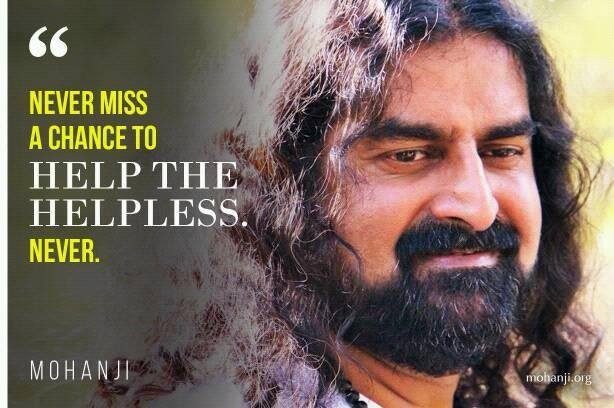 First of all, we need to introspect, contemplate and understand, we need to analyze and understand, we need to understand that all these years, we have used and abused this Earth, our space, the very space that we have to live and we have to hand over to the next generation. If you take the last hundred years, we have grown technologically but we have not grown in awareness. If you take the last 200 years, we have grown in industries and we polluted the Earth indiscriminately.
Land has become toxic, air has become toxic, and water has become toxic. Everything that is around us – all the basic facilities and faculties that we need to survive on Earth, in a very peaceful way, has become toxic because of man-made disasters or man's unconscious existence, lack of understanding, or over emphasis on profits. These are the ways that we must change. We have to really think as so many things that we have done are irreversible. You can't change that. It's already happened. It's done. Not possible to reverse, at least in the next couple of generations. And whenever in the past a species started becoming overwhelming, there were natural disasters, cleaning up, wiping away and creating new species.
So, this situation is very much possible for us if we live unconsciously: global warming, factory farms, pollution of various levels, toxins in the air, water and earth, living in square walls in square spaces; while human beings are multi-dimensional, we are confined to spaces which are square and rectangle which is again confinement; the walls that we created for ourselves: emotional walls, intellectual walls, physical walls, every type of walls that we have created around ourselves, isolating ourselves from the whole world. All these things are our own creation. So, this is a situation which the nature has given us to take time, stay at home and think, understand and correct.
Awakening
This is not exactly the time for prayers. You can pray, if you like for redemption, for better awareness, for better understanding. But this is not only the time for prayers; this is also the time for awakening. It's extremely important. We must be aware. It is indeed a practical joke that the nature is now playing. The dolphins have come back to the lakes of Venice, swans and various birds, migratory birds are roaming free without any kind of fear of human intervention. So many birds, animals, various species are roaming around without fear. Whales are swimming in the oceans without expecting or without having to worry about somebody attacking and killing them. Every species on Earth has been harmed by human species. Every species on Earth is in danger, is in fear of one species, human species who kill indiscriminately, without reason.
We breed for the sake of our palates and we kill them for the sake of our palates. We don't care. We have no remorse. We have no guilt. We even kill our own people, we wage wars for nothing. Knowing fully well or fully being aware that we can't take even a pebble from earth when we die, we still try to make a lot of spaces for ourselves; just to satisfy our ego and when we die, we take nothing from here.
So, this is a race of unconscious living. Our race has been living unconsciously; this space and time is given, this situation is given, so that we are aware that we need to do something about it. When we decide to make drastic, lasting changes, or when we take good decisions to change, there will be lasting effect. We must live consciously. The answer is conscious living. The answer is being aware. The answer is being righteous, being compassionate, kind and selfless.
This is our future. This is exactly what we are. Think about it. It's worth thinking. We'll talk again later.
Thank you.
Mohanji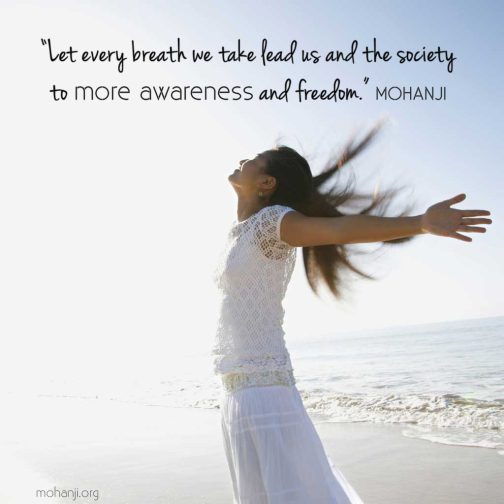 Transcribed and proofread by
Rekha Murali
Watch and read other Mohanji's messages on Corona virus here.
How to add subtitles:
On a mobile:
Click the three dots at the top right corner, choose Captions – English (or other available language)
On a computer:
Click on a setting icon at the bottom right corner, choose Captions – English (or other available language)