To a person who is existing as a unit (this means, he is fully occupied within), the world outside is only an extension, he is fully aware. For all of us too it's the same. Our world is how we are; it is not how the world appears to be because we don't see the real world, the true world. We don't see the truth one hundred percent, we only see relative truth. We see the truth as we are, as our flavour is. We have already discussed this. We have seen great Masters like Sai Baba, who attend to the call of all the devotees. None of these Masters, especially Sai Baba, ever leaves anybody unfulfilled. They always fill them up; they always leave their hands full. Nobody connects to Baba and goes back empty-handed. This is clear.
Some people invite Baba, "Please come home or have food", or "Please attend the wedding in our house", or "Please attend a ceremony." Baba will fulfill it, if the prayer is very honest and sincere, and with full surrender, Baba will say, "I will come", and He will come. Probably not as Baba in the form we know. He will come in any form. It could be a bird, a dog, a cat, a cow, a monkey, it could be a person like a beggar, or a wandering monk, or some such form. Often we expect Baba in His known form, and we miss Him.. And Baba has said, "I came to your house, but you beat me". This means a dog came at the time that He was supposed to come. He came in the form of a dog.
We must understand that there are two options – one is that you create a form; the Master can create a form for the sake of presence. This means the energetic presence is conglomerated into a suitable form for that particular event, that particular activity, and then it is dissolved. This is possible. Otherwise they work through a form that already exists. The dog is already there. The Master's energy enters into that form, for that purpose, and goes to that place. The entire responsibility of that body is that of the Master; and then He goes to that place to fulfil the promise. But if we don't see the truth, if we misbehave or if we don't respond properly, we miss the chance. It has happened many times.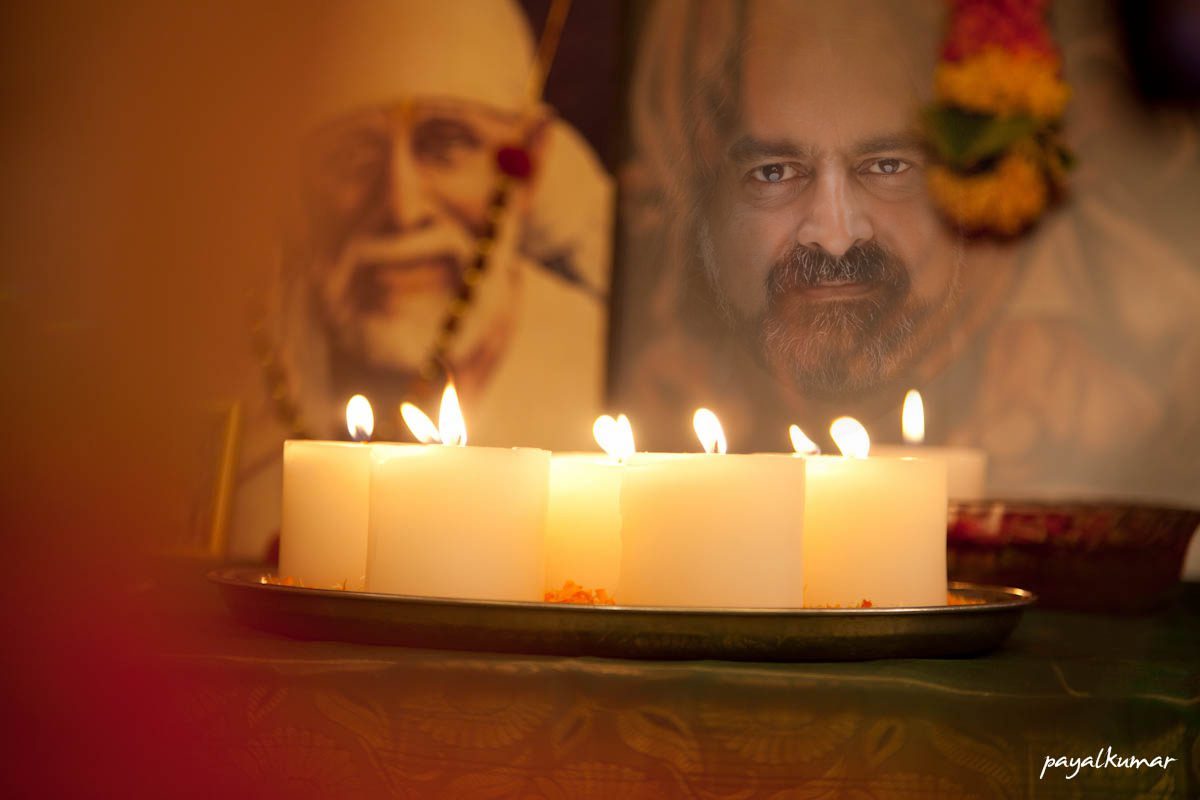 This is also why it is important that we should not take any being for granted. We must consider all beings as an expression of pure consciousness, and treat them accordingly, so that we don't miss Baba or the Masters. Whenever I go to places of worship, I like to feed the poor people, the birds and animals there. I derive more satisfaction doing that, than in entering the sanctum sanctorum. Of course, you go in and pay respects; but the most satisfaction happens, grace happens, when you are making all the beings happy. There is no more happiness than in delivering food, annadaan.
Annadaan is serving food that makes someone fulfilled, and when they are fulfilled, great Grace comes into you. That's why they say Annadaan is Mahadaan. Serving food is the greatest of sharing, serving. It's very important that we should see Baba in every being. Baba can definitely come in any form. It could be a human being, in the form of a beggar. So look at everybody as a potential Baba and serve them. Just ask them, "Are you hungry?" I always do that. "Are you hungry?" If they are hungry, give them good food, good quality food.
I'll narrate an experience I had in this context. On the New Year's Eve of 2014 or 2013, I was in Mookambika with a few others. The temple of Mookambika, is in Kollur, Karnataka, in the south of India. It is an amazing temple; most of the great Masters have spent some time there with the Mother Goddess. It's a very powerful temple. Mother is really sitting there or Mother's presence is felt there. So I wanted to spend the New Year there. As I was coming out of the temple, I saw a man, decently dressed, but it was obvious he was asking for money or food. When I saw him, he extended his hand, as if he was asking for something. I asked him "Are you hungry?" because I was going for breakfast. He said, "Yes, I am hungry." I said, "Come with me." So we went to the restaurant, and he occupied a table, my companions and I sat at another table. I told the waiter, "Whatever he wants, give it to him. Let him consume, and give the bill to me." He did not eat much, he only ate moderately. Once he was done, he came to me and said, "I am satisfied." So I asked him, "What about your lunch? Do you want to take a parcel from here?" He said, "No, don't worry, I am ok." I asked him, "Do you have water?" He replied, "No I don't have water." So I bought him a bottle of water.
He then left and we continued our food and left. Next day, in the morning, the same incident happened. When I came out, I saw the same man, and he was standing at the same place. I asked him, "Are you hungry?" He said, "Yes".And then the same thing happened. .
That day I was planning to go to the river in the area to take a dip. It's a very sacred river. However my companion and I lost our way and went to a different road. We turned around and reached a temple, the temple was not in our original plan. We were only planning to go to the river. When we came to that place, there was a verandah, a kind of a platform, where I saw the man who had breakfast. He was lying down. When he saw me, he came towards me, and explained a little bit about the temple. Many pictures were taken at that time but in none of the pictures this man was seen. Then we went to the temple, and by the time I came out, he had disappeared. I never saw him again. Obviously he was not a human being. He was probably a Master or someone else, I don't know. Probably his mission was to bring me there, and of course, he did not lead me like a guide; he was already there when I reached. But in all the pictures taken there, he was not there, his space was blank.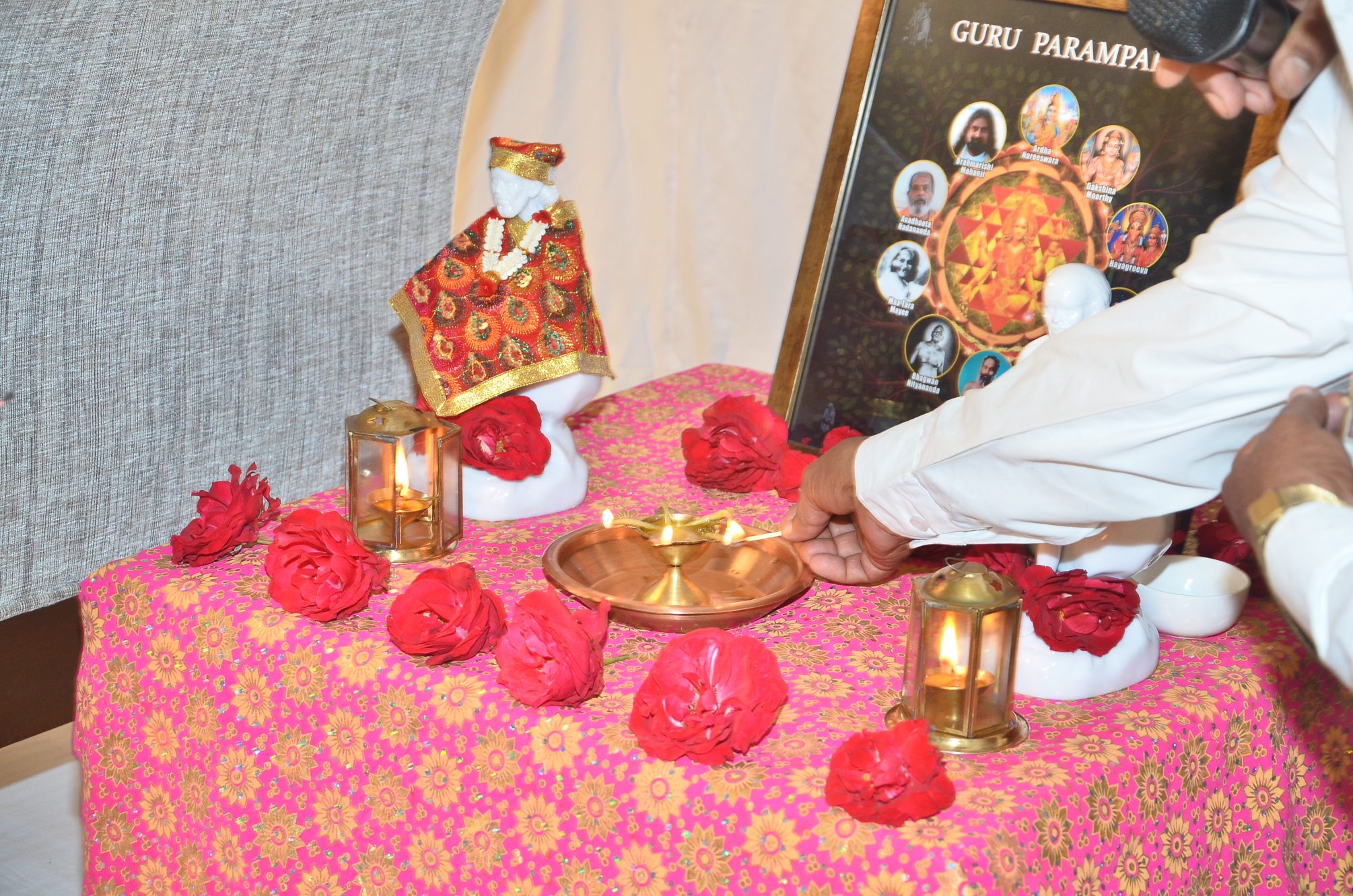 I am giving this story to you, just to tell you that at various times, the person in front of you, the one coming to you, may not be an ordinary person. If we fail to see them, throw them out, ask them to go away, or abuse them, we miss a lot. We should never abuse anybody; we should never talk badly about anybody. We should always have the attitude of serving. We share what we have. They don't expect more than your capacity, ever. Share what you have, within your capacity, and don't look at whether they are in human form, or in the form of an animal or a bird. That is why we have this custom in our system, that we serve every being. We do that in our place also; before I eat food I will ensure that food is distributed around our house: food is kept outside at specific places for the birds, insects, and animals such as squirrels. They come and eat, and only after that I consume. Thus we first give food to the beings outside the house and then we eat, so that the food that we consume is blessed food, consecrated food. By giving to various beings, we are consecrating our food, then we consume. It can be anybody who is consuming. I keep some food under the tree, birds will come; animals or other beings will come and eat. They will be satisfied, and then we consume – that's pure food, blessed food, it will be completely non-toxic.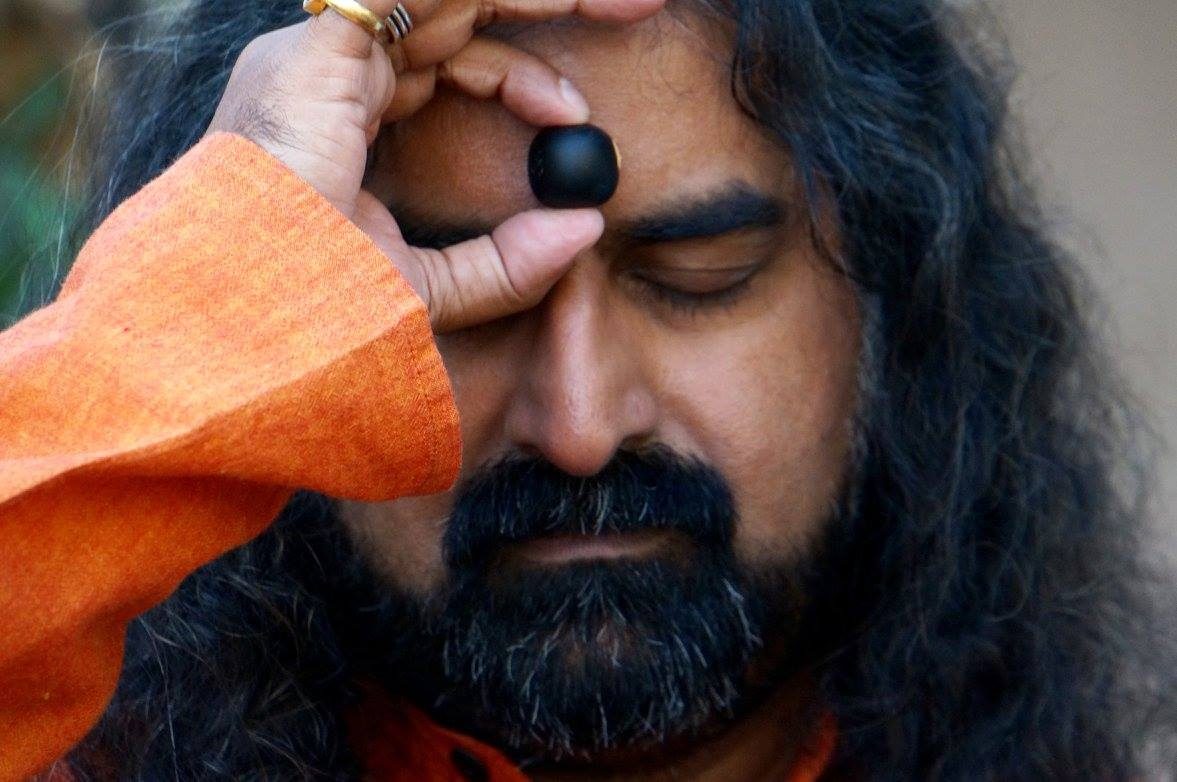 Also always, when you serve, serve good food, not food that you don't want, not bad (spoilt) food. Even if you are giving it to a dog, a cat, or any other being in nature, always ensure that you are giving food, which you will consume. Similarly with clothes; we must only give clothes to others that we will use, which is comfortable for us; not that we give something that we don't want.
Whenever we do things with the right attitude, it enhances our energy, it opens us up, it removes blockages. We must always remember, this is the path of Baba. When you say you are a devotee of Baba, it should be the lifestyle; an attitude of service all the time, an attitude of gratitude all the time.
It is not that you go to Shirdi often, for something. That's not the way to serve Baba. When you really respect Baba, when you love Baba, when you think you are connected to Baba, these will be the signs of that connection. That means you are here to serve; you will not compete with people, you will not talk bad, you will not criticise, judge, gossip, defame, shame somebody. You will not do any of these, you will respect everybody. Everything is part of a karmic agenda, everything has a karmic allowance to it, so we respect that. If you don't want to participate, you can very well not be there, that is fine; but standing there and abusing, criticising, judging, defaming, shaming, these are not good, because then it is huge contamination entering your system.
You should always remain pure, like a young child, like a newborn, always remain pure. Then when you leave the body, you are leaving a pure body to earth, not a contaminated body. So serving has a lot of value in the system. It's very important. Always remember this.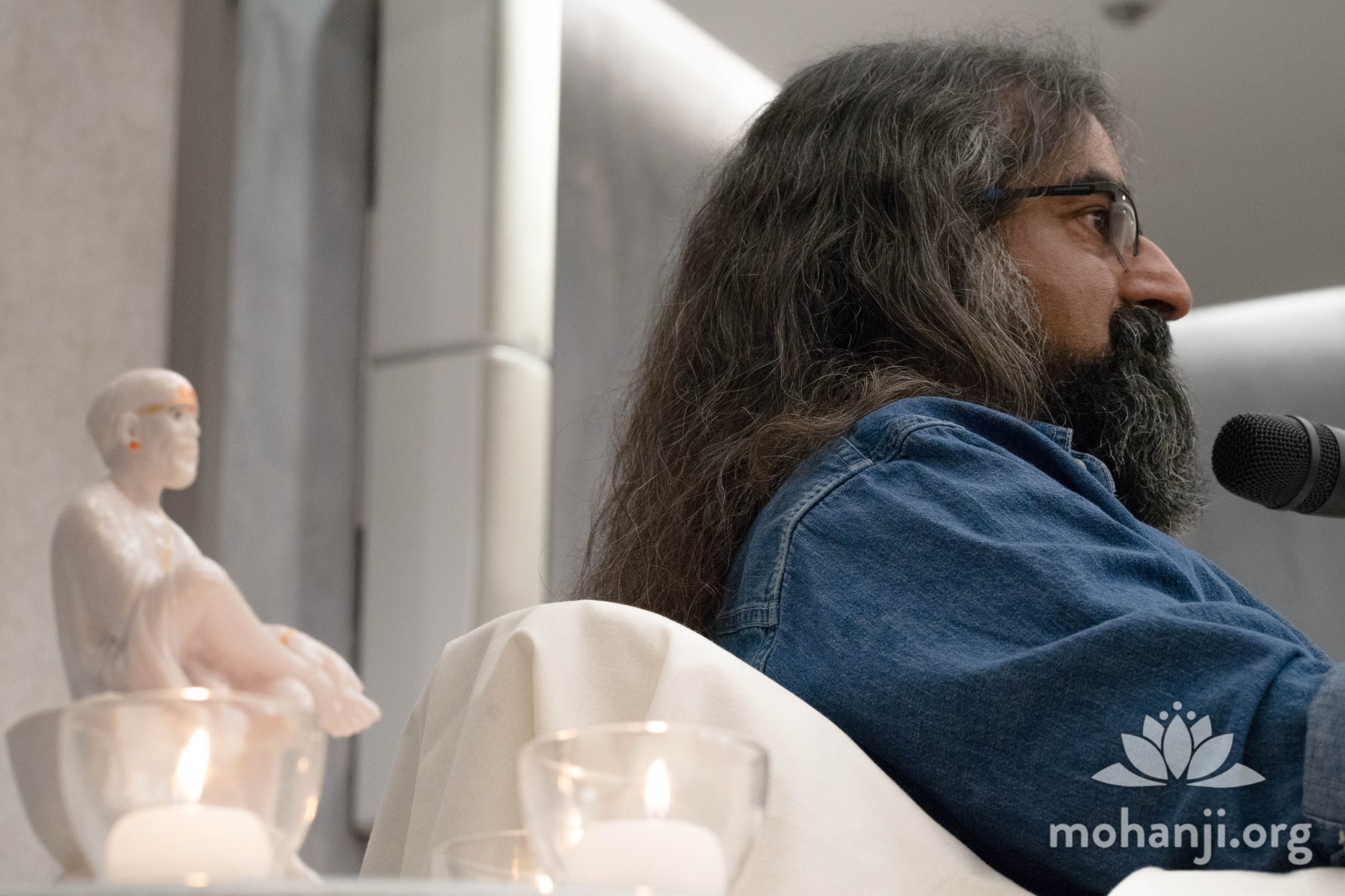 Transcribed by Nada Rakovic
Proofread by Vidya Rajagopalan