Satsang with Mohanji in Canada, part 1
26th June 2019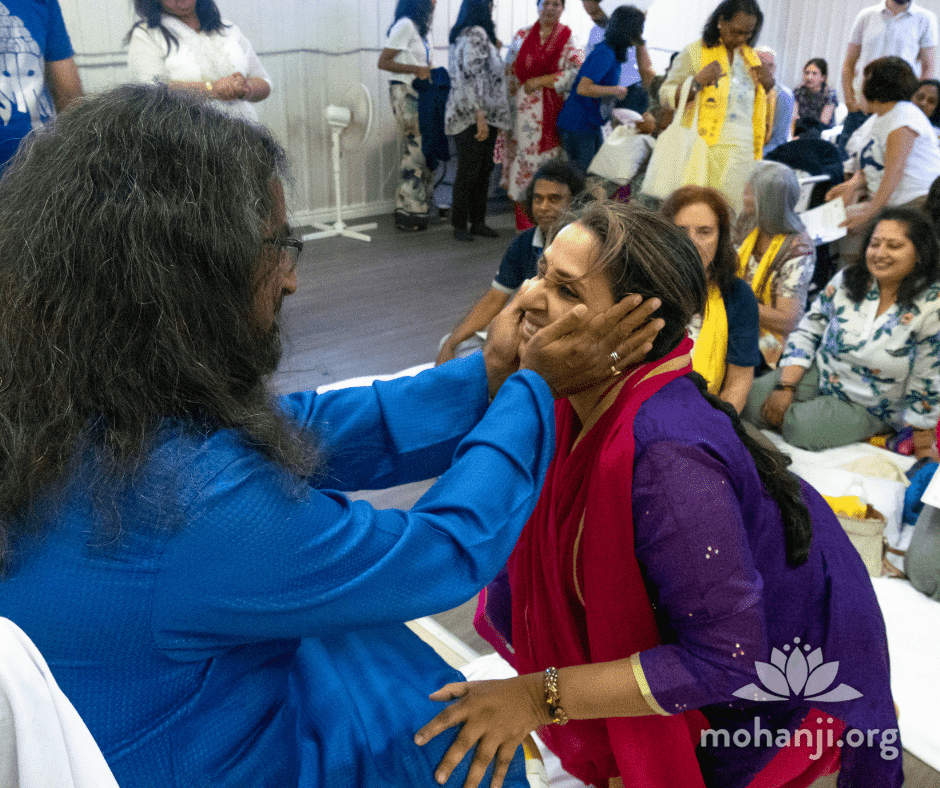 Q1: In the chanting of Om, why does one say AAA – AU – MMM?
Q2: How does an aspirant know if he or she is progressing spiritually – what are the signs?
Q3: So Mohanji, when you say fear manifests, how can you prevent that?
Q4: Mohanji, what is destiny and what is the role of destiny in our life? How much can we change it? People say that certain things in your life are ordained because of past karmic or past life thing. I've read a lot about sanchit karma. You see people who have led righteous lives yet are suffering a lot, and some others say it is good that they are suffering because they are cleansing their karma. Sometimes my logical mind has trouble understanding this…
Q5: You spoke about lineage and pitr dosha – is that something that can be eradicated? Is it is like a loan/burden that you have to carry alone no matter what, and go through suffering? Can it be taken away?
Q: In the chanting of Om, why does one say AAA – AU – MMM?
M: The actual structure of Om has three parts. These three sounds can be uttered even by somebody without a tongue. And these sounds combined together produce OM, the primordial sound.
So when you start moving towards silence, your mind that is usually focused outside for emotions, your intellect that is focused outside for analysis, and ego that is focused outside for maintaining personality, all three will start focusing inside. Then all you will see are the stored data, the things that you have collected.
Of this data, first and foremost are the fears. They all come out of insecurities, and insecurities are all really coming out of survival instinct. So the source is instinct – the survival instinct that is common to all species. We all want to survive, and it is from there that all these fears and insecurities come. So the mother of all these things is survival – for all species, not just human. We all want to survive. And so this overwhelming feeling of insecurity is from where so many things come.
So we will start seeing all these things that we have trapped over time. We may not even be aware that we probably have developed this from our childhood. Developed means we collected it when we interacted with the outside world. When we are sleeping, we are not collecting. Only when we are awake, when we are interacting with the world outside, is when we are picking up. This happens without our knowledge – it's not that we are deliberately picking it up.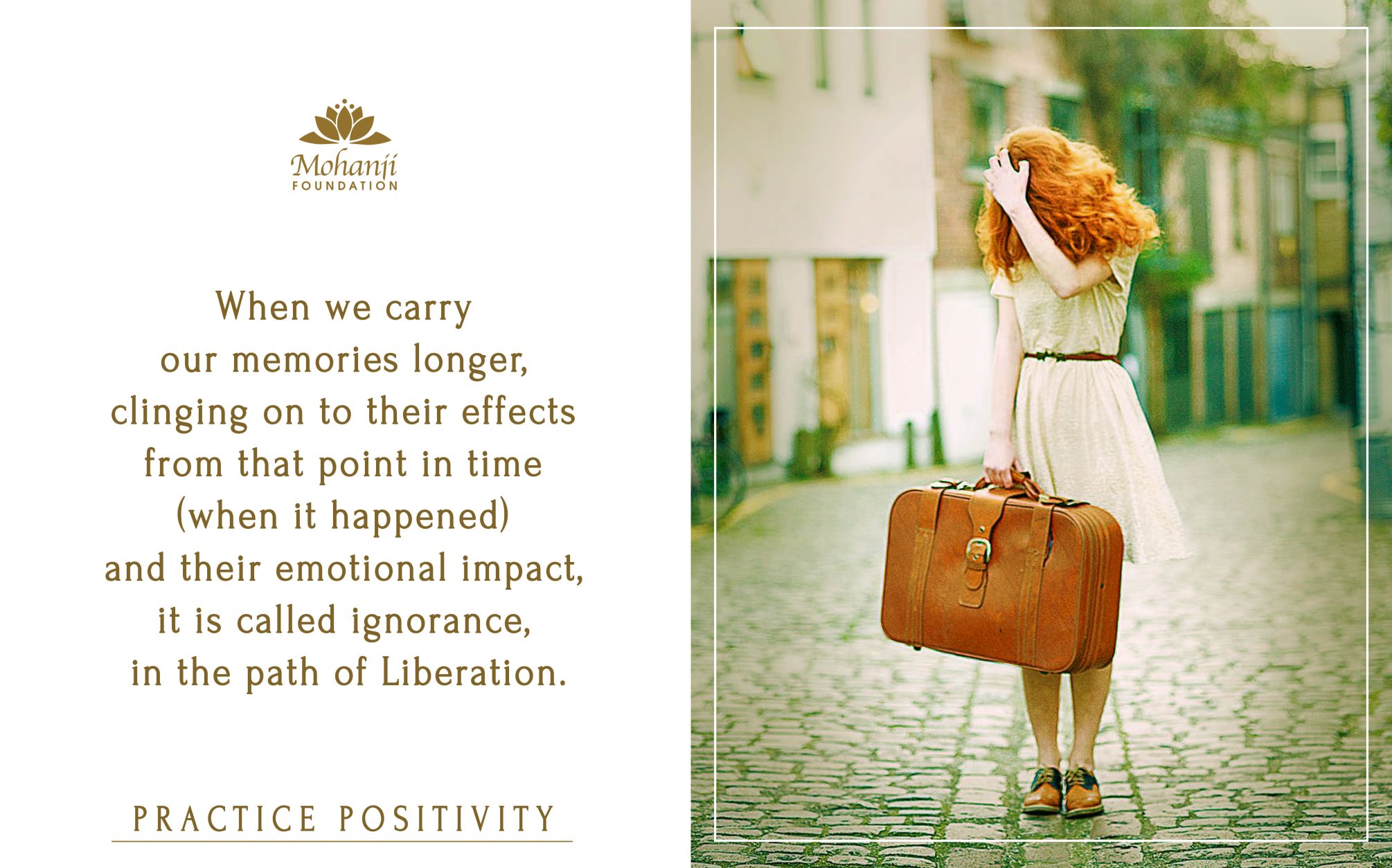 Not only do we pick up from our own lives, we may pick up in other ways. For example if we are watching a feature film, we may feel so connected to the film that in fact we may be 'living' it. Though it's not our life, though we are only watching, yet we may pick up some emotions without our knowledge. Likewise somebody may have told us something: "Hey look here, in my life this kind of situation happened." Although this may not be our own experience, yet we may pick it up. All this gets stored and not consciously – but unconsciously. Then finally what happens is we will have a lot of stored data that we will start seeing when the focus comes inside. Otherwise we don't see it. And this is because we are usually looking outside, always collecting whenever we are awake.
But at some point in time when you meditate, when you start connecting, all these faculties look inside. At that time, the outside world has no value. This can be compared to the sleep state, except that in the sleep state you don't have awareness, and here you have awareness. That's the difference, and in that mode all these things start coming, and they start coming and they start leaving. Because they are not doing anything. They come and they leave, but they have to come because they are sitting inside.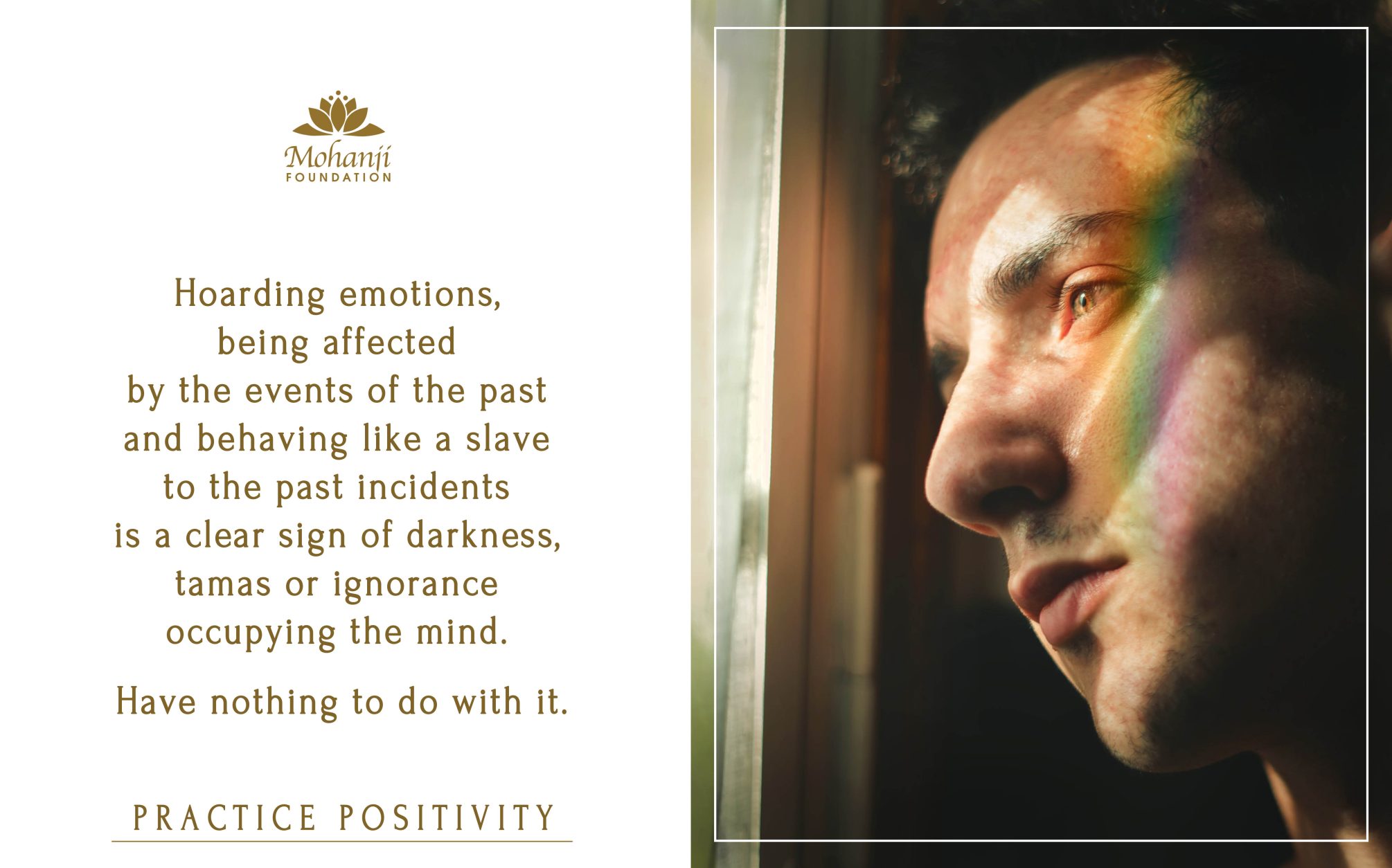 After a while when all the clutter of the noises have all slowed down to the level where there is only OOOOMMM – the sound inside, then even that sound becomes insignificant. So this sound is your natural sound, the sound of creation. The whole cosmos has this sound plus all the clutter. Everything, every sound has come out of absolute silence. Even now if you see, when you stop talking, it's silence. From the ocean of silence, the sounds come and then they go back to the deep like a wave. Waves come out of the ocean, then they return back. They can't stay like that, and so no sounds can exist forever. They go back to the silence. So everything comes out of silence and goes back to silence. We come out of consciousness and we return back to consciousness. This is life, you always live like that. We don't have an isolated existence – we belong to Consciousness. You can call that Parabrahma, Allah, Father, Viracocha, whatever you want to call it. You can call it the Source of pure energy, brighter than a million suns, out of which the manifested universe came, and into which the manifested universe will dissolve.
So this is the story. In that story, the sound is like a confirmation of the whole creation as well as you as creation. You are creating your destiny every moment. You create destiny mostly when you suppress things. When free flowing expression is suppressed it becomes your pending desire. Likewise, you have emotions connected to thoughts, expressions, actions, and these emotions catch these things and put them inside. With these two ways of suppression, we create destiny every moment. And then whatever you can't manifest now, and whatever you can't experience now, goes forward to another life. Very simple. That is how we take more births.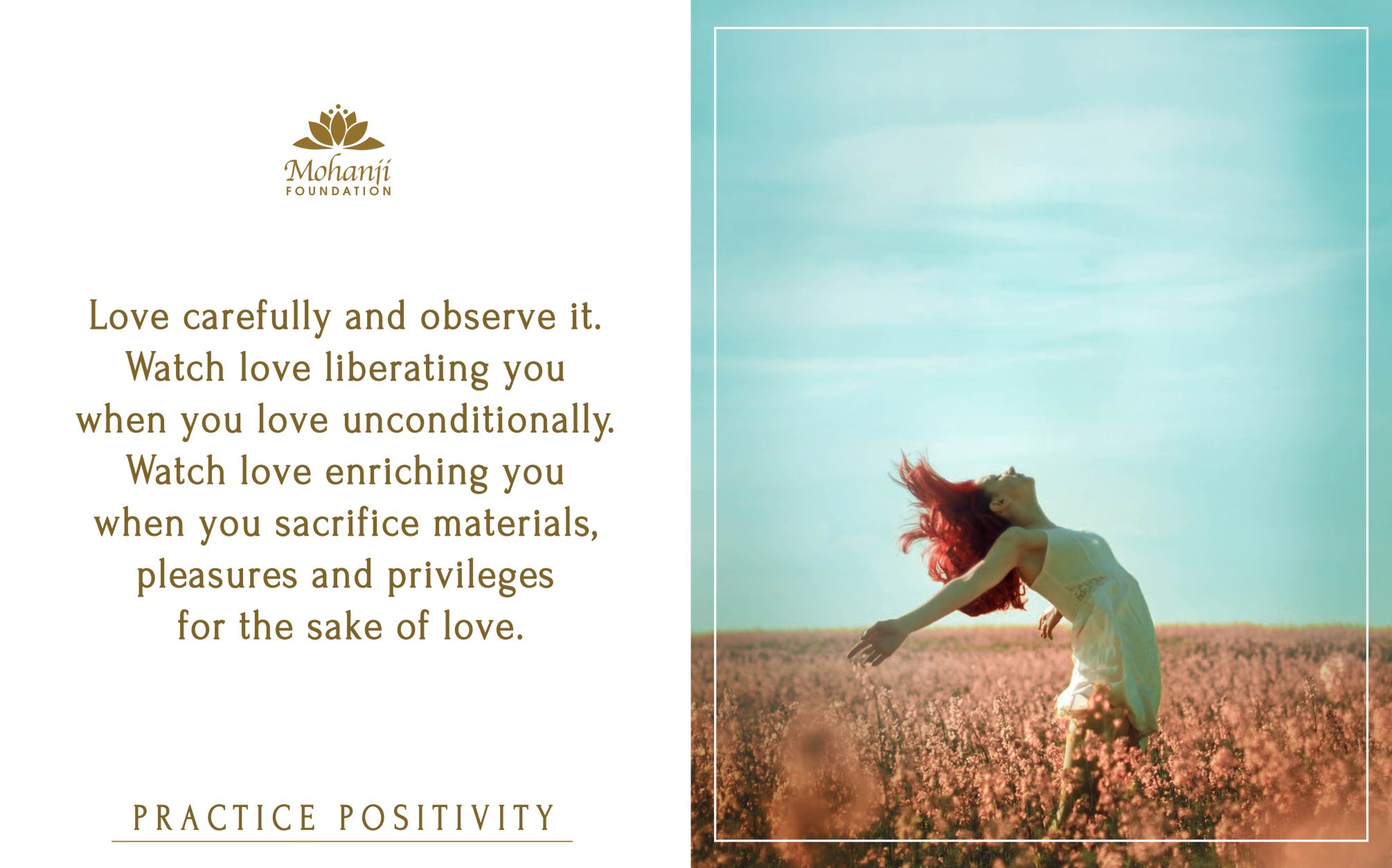 Q: How does an aspirant know if he or she is progressing spiritually – what are the signs?
M- The main sign is that the outside world stops bothering you. The outside world will remain the same, but internally you are peaceful. You will look at them, you will feel them but you will not be affected by them. This is a primary sign. Secondly, no matter what happens, on the inside you are very silent. Though you may be participating in much of the drama of life, at the same time you have stillness inside. So this is a sign of stability. It's called spiritual maturity. The things outside are not important for you. But as a human being, you will continue participating in all of life's parties. Yet you are not dependent on them. If the parties happen, that's fine and if they don't, that's also fine with you. By 'parties' here I mean the events of life.
So you will reach a stage where you will feel that everything is fine and you have no problem with anything. The silence is a very clear example of stability. Silence means less thoughts. Less thoughts means less desires. That means less inclinations. If you don't have an inclination for ice cream means you will not have a thought for ice cream. (And, if you hate ice cream you won't even think about ice cream.) So inclination is the cause of thought and thought produces expressions. "I need an ice cream". Expressions lead to action, so you have to eat the ice cream. Actions lead to the experience of eating ice cream and then you think about flavors : "Oh, this is chocolate flavor, strawberry, vanilla….".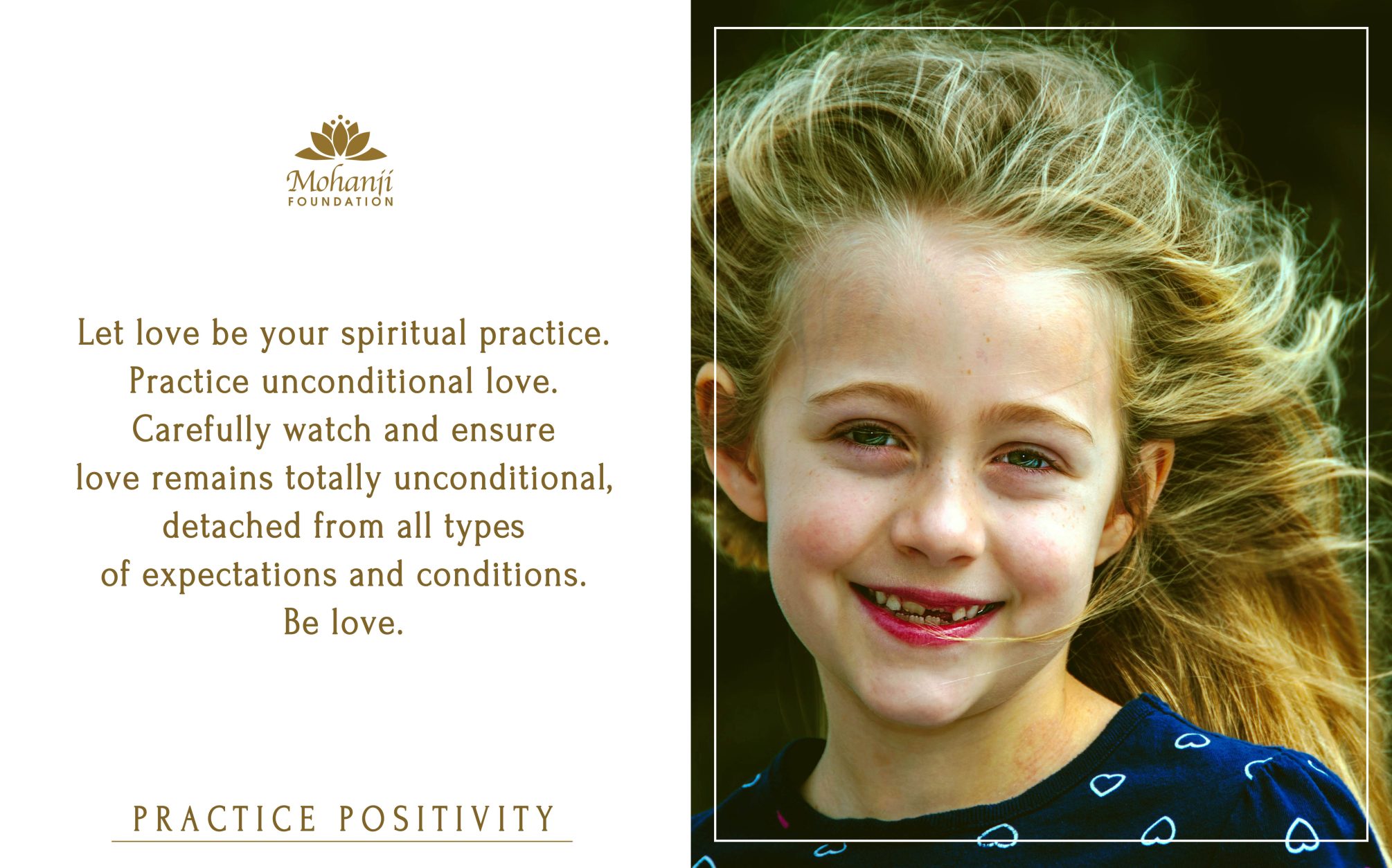 The feeling of all these things are connected to experience and that then becomes memory. Experience becomes memory, you have stored the experience: "I went to that particular shop and that ice cream was very tasty". So when somebody says, "Can we have ice cream?" You can say, "Oh, let's go to that shop". What makes you go to that shop? Memory, stored memory. So, stored memories are caused by experiences, as you experienced it. This is important to understand. Your life is per your experiences. It's not as per life as it is. Life can be busy. Now so many people are here in this room, but each person will listen to me differently. Why? Because you see the world as you are. Some people might be thinking while I'm talking. Others will be feeling peace. Like that, everybody as per their orientation, connects to everything in life. All things of life we connect as per how we are, as we essentially are. And that's the way we experience. So that is what we store.
You may have had a good experience but then somebody will come say that was not so good! As per their mood they will probably not experience what you experienced. If you are in a very happy mood, you will experience great things. If you are not so happy, what will you experience? You will experience as per that day, that moment, and that is what you will store. Then those stored data become impressions. The impression that is transcribed is written in your subconscious. That can cause a desire. One day when you are sitting quietly and nothing is happening, suddenly you may remember, "That day I went to that shop and had that ice cream". Actually it's not contextual – it's not that somebody showed you a picture of ice cream or anything. You are sitting quiet, but this memory is sitting inside, and it comes as a thought. Then you say "Hey, lets go to that shop". Thus out of no plan you make a plan. Then you have the ice cream, so again you have an experience.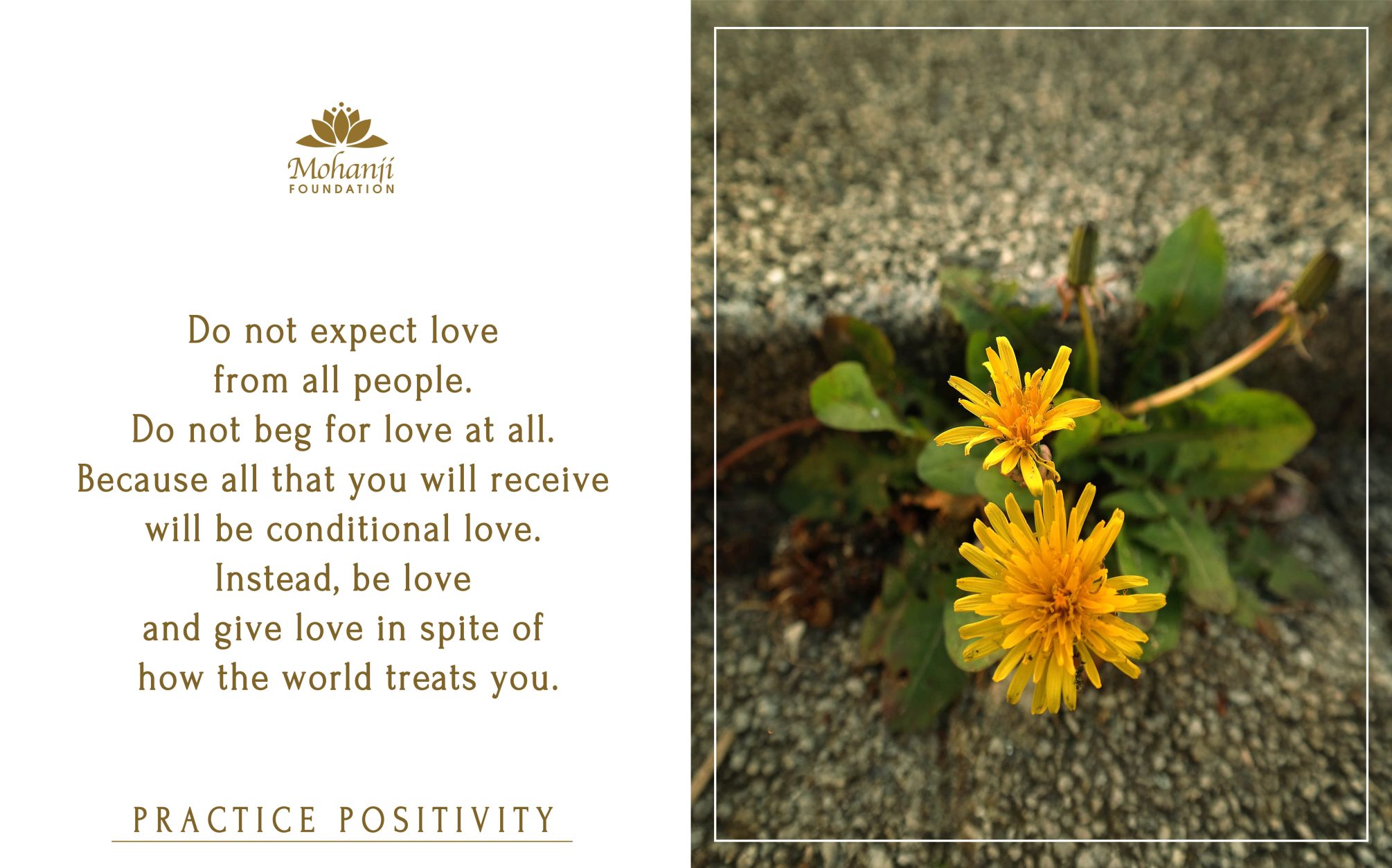 So, thought comes, word comes, expression comes, experience comes, memory comes, impression comes. This is the cycle and if you repeat it often, it becomes a pattern. Good pattern or bad pattern, this is how patterns are made. A pattern could be that of anger or of hating something or somebody – it could be anything. Any aspect of existence if it is repeated, becomes a pattern. And if you look, the strongest patterns in the system are connected to survival. Because survival is the main thing, and is connected to things like betrayal, cheating, stealing, injustice etc. All those things you tend to store more and repeat over and over with time – have you seen that? You store those more, the other things you do not store. We take it easy with the good experience, but the bad experience we remember. Why? Because we stored the bad experience deeper. The deeper the emotion, the deeper the storage. Simple. If emotion is not so deep and is a light pleasure, or if the happiness is light, you don't keep it. But the pain you keep inside very deep and it can make a pattern if you repeat it. Similarly, a fear repeats itself. Not that you asked for it. Yet it keeps coming back. What you fear most keeps coming back. This is what happens in life. Not that you ask for it – it's sitting there waiting for a manifestation.

Q: So Mohanji, when you say fear manifests, how can you prevent that?
M: Awareness.
You need to understand first of all that you have a limited time on earth. Whatever is born must die. See, we feel that we are doing great now, right? We are sitting here talking, we are healthy, all that. Maybe 50 or 60 years later, we will not think so – we may not even be here. So during our existence, we should always be aware of all these agonies and ecstasies – that everything is coming and going, that nothing is staying. Isn't that the truth? Happiness and sorrow – they come and go. Whatever is happening is like a wave – it doesn't stay, it goes back. Life is like that – waves of thing after thing that keep coming. Like that it goes.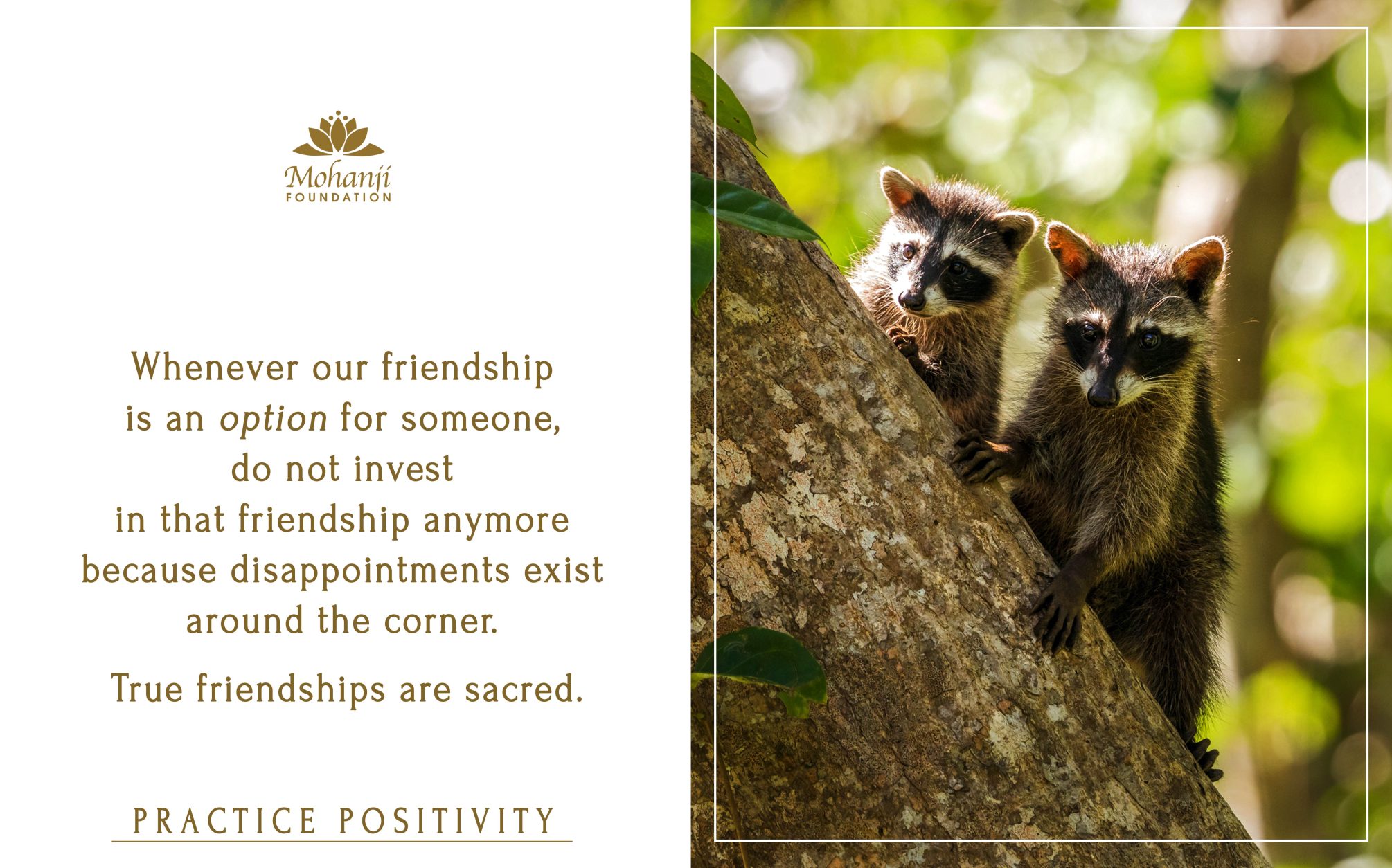 Once you are clear about that, you will understand that all these fears and such things have no permanent value – only a relative value. Most of the fears you have, are connected particularly to a certain time, space or a certain effect. Like for example, in the 24-hour day, when you are in dream state and deep sleep state, these fears are all absent. Where are those fears then? They are not there. In waking state too at certain times, fears are not there – for example, a fear of darkness will only happen in the night. In the morning you won't have the fear, but after sunset that fear may appear. So when you look at how situational these fears are, this is awareness. When you start looking into the fears and see the whole vital statistics of the fears, you then realise they are just shadows. What is darkness? Absence of light. What is fear? Absence of awareness. When you really aware, you will know that this is all temporary, it's all shadow, and that "I'm not shadow. I belong to light, I am light." If I am light, then where are fears? That's the point. What are all these fears connected to? Certain insecurities. And insecurity is connected to survival instinct. So it's an instinctual thing. Every animal feels fear. Every animal feels love. And every bird the same. You know this is built into them – it's like a survival instinct. Security, safety, they feel it.

Q: Mohanji, what is destiny and what is the role of destiny in our life? How much can we change it? People say that certain things in your life are ordained because of past karmic or past life thing. I've read a lot about sanchit karma. You see people who have led righteous lives yet are suffering a lot, and some others say it is good that they are suffering because they are cleansing their karma. Sometimes my logical mind has trouble understanding this…
M: Destiny has two major strains. Sanchit karma has two aspects. One is lineage karma: the karma that comes from your parents. The lineage from both father's and mother's side join you. It is said that when the embryo is formed at the time of conception, the coating is this lineage karma, and not what you have brought from another life. You can call it inheritance for the sake of easy understanding. Just like you inherit your father's and mother's property or wealth, in the same way the lineage inheritance comes to you. It comes to everybody, before the soul enters the body. Understand that as soon as you decide to take birth in a particular womb, you are automatically required to buy the inheritance. The bill has already been given.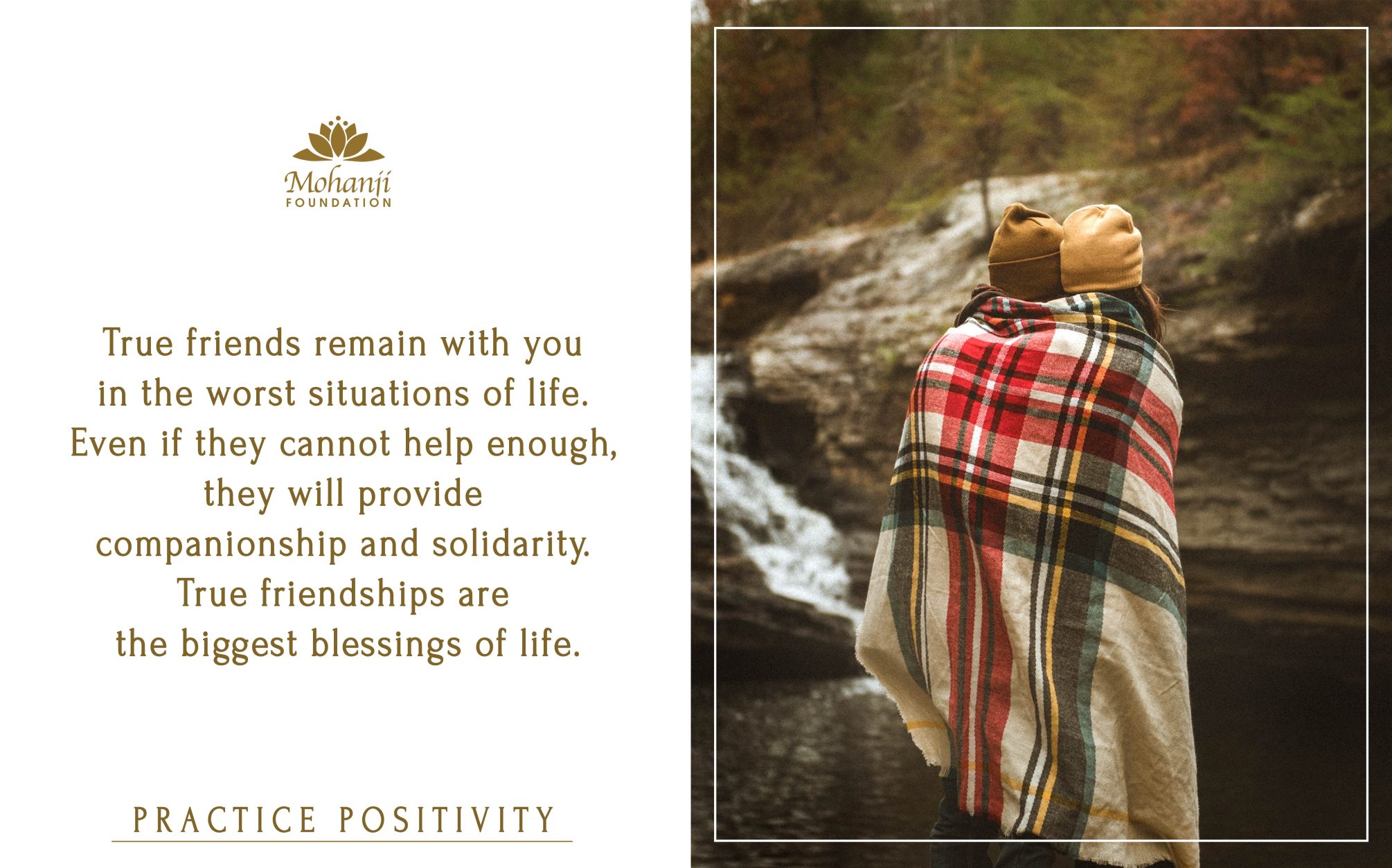 Then the second part is the prarabdha karma: the karma that provoked the incarnation. This means that were unfulfilled desires that caused the incarnation. Unfulfilled desires need time and space for execution. The thing that has to happen at the age of 10 cannot happen at the age of 20. Or vice versa. So it's laid out on time. And every activity and every experience has a beginning, a middle and an end. Beginning of the experience, the experience and the conclusion. This is true for every activity. This is like a mala or rosary or garland, in which the beads are the experiences.
So the garland called destiny connects all these beads. When you see from the outside, you only see the beads – you don't see the string. The string is the destiny that is from the beginning of life till the end of life. It's linked by unfulfilled desires. As I just explained, unfulfilled desires have their roots in impressions. Impressions mean what you stored in your system. Impressions have their roots in memories. Memories are experiences of life as you, as an individual, experienced them. Then before that experience, there was an action which caused the following experience. Thus the cause of a memory is an action, and stored memory is an impression, and that causes unfulfilled desires. When these unfulfilled desires get mixed with praana, there is some kind of a chemical reaction. Breath.
You need waking hours to experience – you can't experience while sleeping. Of course you have feelings when you are sleeping but that is not within your boundaries, since waking state mind is not there. You do experience dreams, since dreams also have the same source. What is the source? Stored data. Dreams are coming out of stored data, definitely. But you have no control over it – you don't even know that it's stored. In the waking state experiences, your mind is interfering.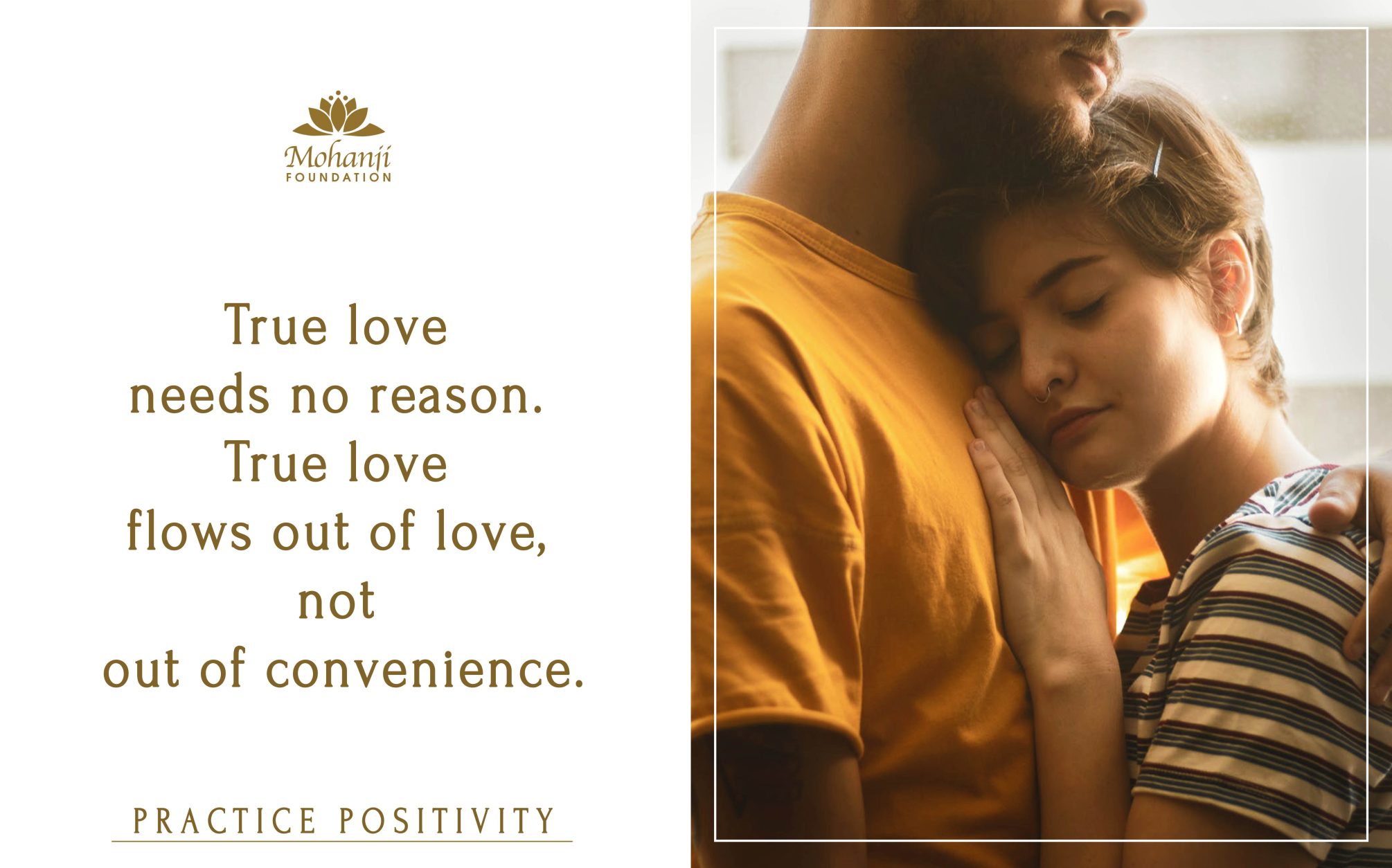 This stream is called destiny. It has a beginning and it has an end. This is already decided: how many years you will live, and how many breaths that you will take. This is already stored, it's destined to happen. In this flow you cannot make much difference. What is free will then? That was your second question.
Free will is the way you approach it – your level of awareness. You can look at it as a problem or you can look at it as a possibility: this is your free will. See it as a situation. All of life is nothing but situations. I don't think there are any problems in life. But when you resist something, "Oh I don't want this, I don't want that", it becomes a problem. When you accept it, it becomes a possibility.
Imagine you are experiencing something completely bad and you are like: "Ok, now this is happening in my life, things are not so good", then you just start riding that wave, like a wave rider. When things are not so happy in this type of situation, what is our usual way pattern however? Resistance. If you push them away, then what will happen? It will be postponed. The destiny that you are supposed to experience cannot be changed. Its intensity can be reduced with a Guru's role or due to your connection to a powerful Master, because a Master can definitely dilute intensity though cannot take it away. The Master will not take it away because that is your original free will.
Please understand: destiny or praarabdha is not created by conscious decision. This has to be very clear. By conscious decision here, I don't mean the type of decision like, "I want to experience an ice cream". What causes praarabdha ? Cache memory. That is what I explained earlier. It could even be a memory that is from watching a feature film, or even a memory of someone close to you or something conveyed to you or an experience that was somebody else's. Or all of these put together.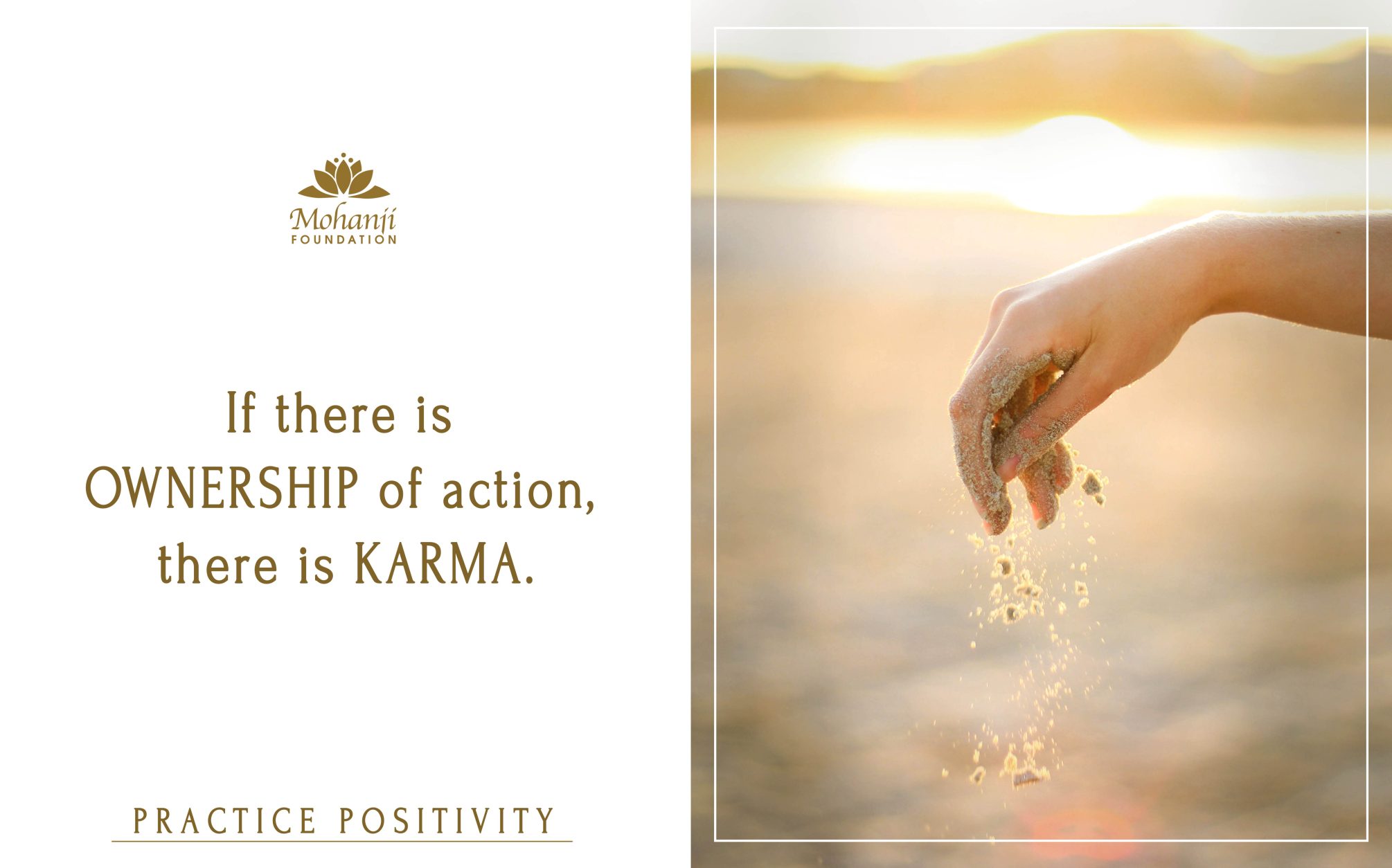 Cache memory. This cache memory causes praarabdha. Otherwise there is no memory. No memory means you are not consciously deciding. Some things can consciously happen, for example your hatred: "I hate this fellow, I want to kill him". Things like that – that can become a conscious decision, and because you can't kill him sometime in that life you may have to come back in another life to kill him. So these types of intense emotions become the main flavor of the praarabdha karma.
Likewise with suppressed addictions and suppressed habits. Imagine that you were not allowed to smoke at all in another life. So you were always thinking, "How can I smoke"? Somebody was watching so you couldn't smoke. And then finally when you take birth in the next life, you will start smoking as soon as possible. You see that in the world: addictions and compulsive habits, all connected to suppressed desires. This is the sum total of your structure.
Cache memory is just like the hard drive of your computer. You are not storing in there but as you surf life, it gets stored. Surfing life means watching films, interacting with people, reading the newspaper, your opinions about politics…The talk about Justin Trudeau – that will also be in the memory. Like that everything has its cache memory. Sum total is destiny and destiny you cannot change.
That is what the great avadhoota laughed and told Maha Kaali when he saw Her dancing with ghosts and ghouls. Kaali replied that she had never seen any human being who was not frightened at this sight. Then he said, "You are an amazing dancer, wonderful."
It's a funeral ground, where Maha Kaali and all her entourage are dancing and singing, shouting and screaming. And this guy, this avadhoota, this great master, is watching.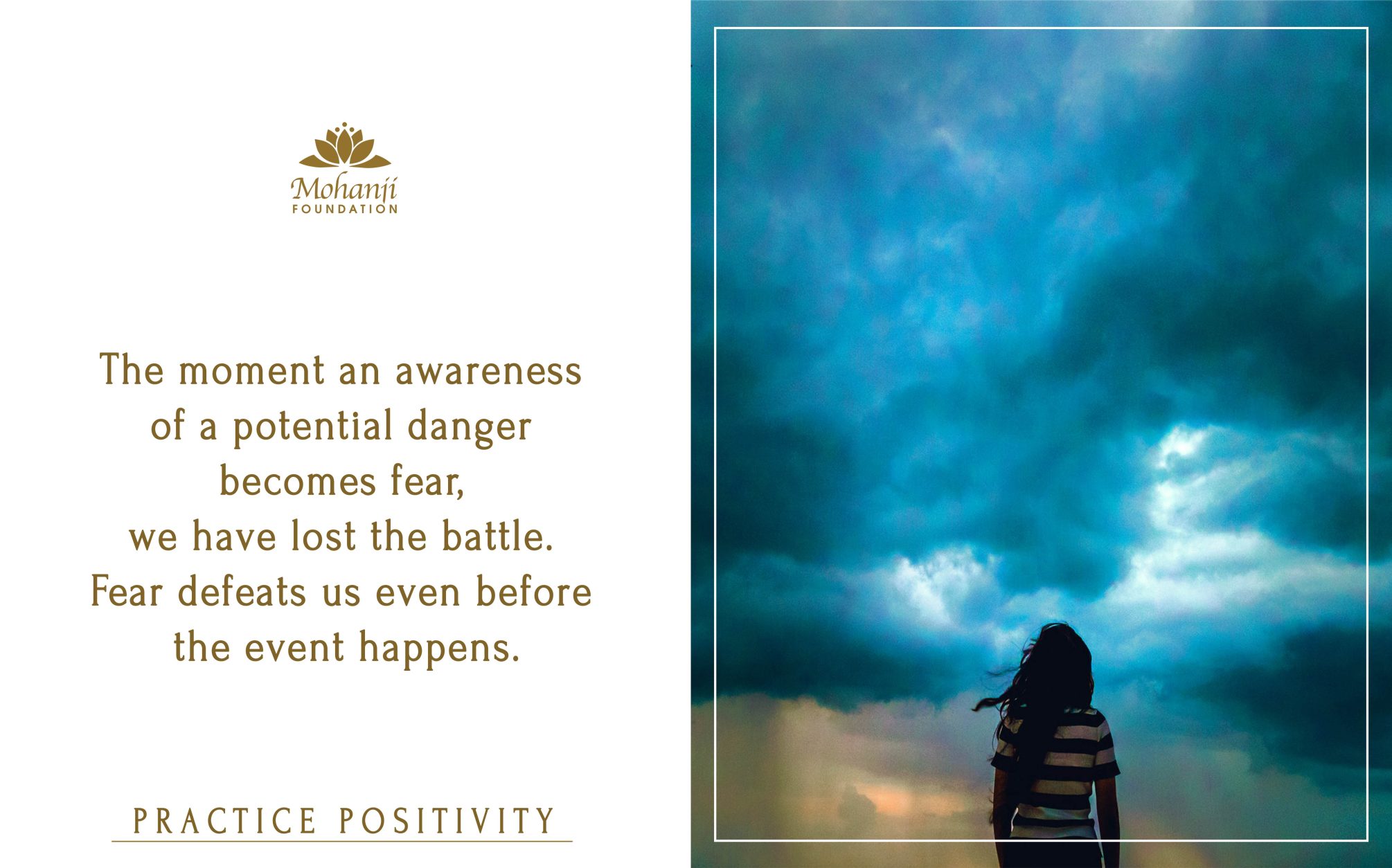 And Kaali said," You are not afraid?"
He said, "I'm not afraid, I'm happy… amazing dance, it's been a long time since I saw a dance like this".
So Kaali said, "I've never seen any human with no fear! So you must ask me for something – I'll grant it to you. I want to give you a boon."
He said, "No, no, no …. your dance was very entertaining, that was fine for me."
Then she said, "No, when I feel pleased with somebody, I give them a boon. This is my usual level, the way I operate."
So he said, "Ok, in that case give me one more year of life." She replied, "No, that I can't do, your last breath was decided already when you took the first breath." Then he said," Ok then reduce my life by one year, I want to die early."
She replied," No, I can't do that either.. Your last breath was decided when you took the first breath." Then he said,"How about one month extra?"
"No."
"One month less?"
"No."
Then he said, "I don't want any blessing. This is basically why you can't mess with me."
Again she said, "No, ask me for something that I can give you."
So he asked, "What is the range?"
"Something physical."
He had elephantiasis – a big leg. One leg was swollen, it was very big and painful. So he said," See – this other leg doesn't have this problem. One leg doesn't experience this problem, it is not justice. It is injustice, why only one leg is enjoying and the other is suffering. It's not fair right? Both legs should suffer or both legs should enjoy. So why don't you transfer this problem to the other leg? Now let this one suffer and that one enjoy a little bit. "
So she said ok.
He didn't ask for a healing. What did he say – he said just transfer this problem to the other leg. And Kaali blessed him with that.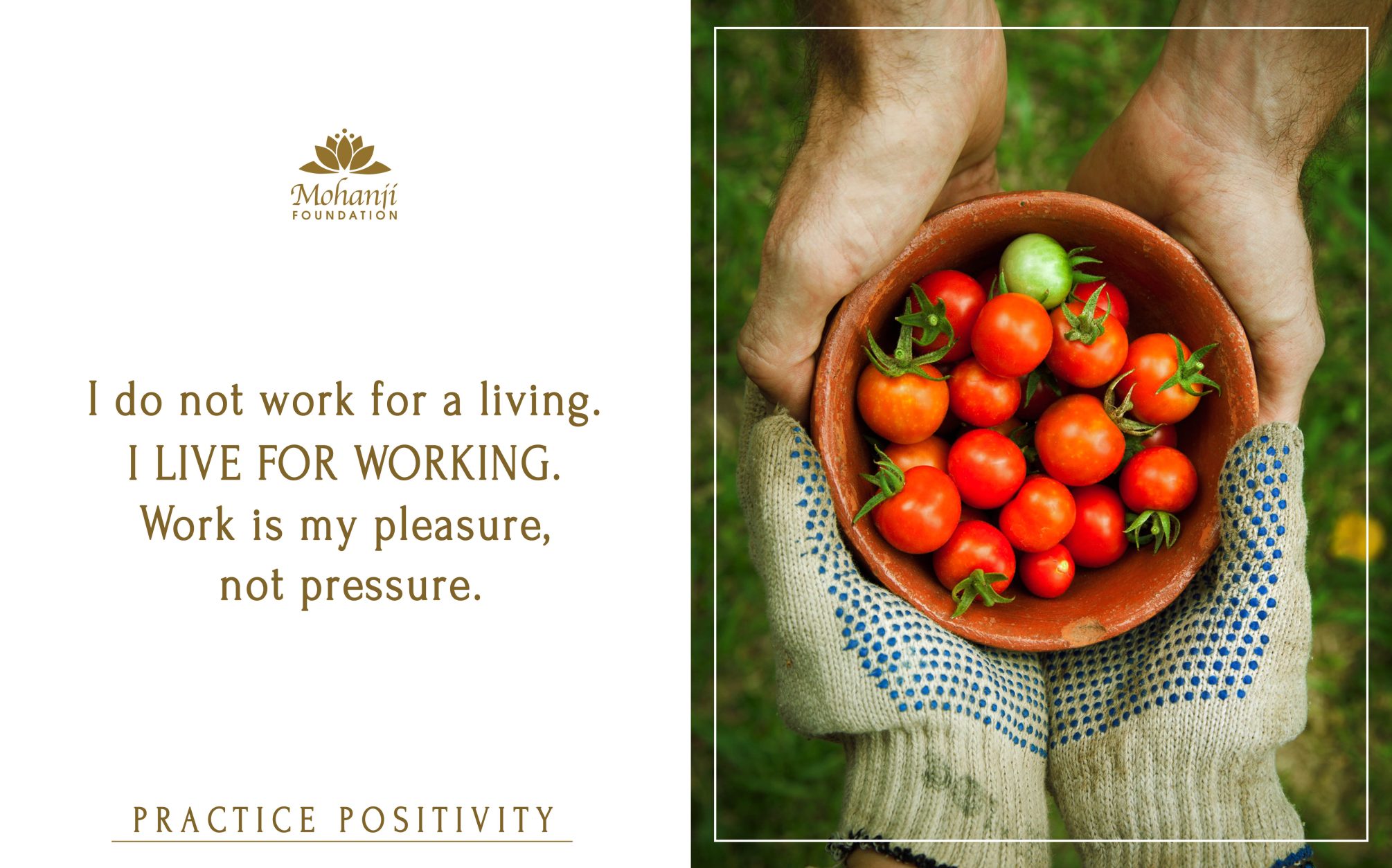 My point is that not even an extra breath happens in the path. So what is the obvious thing Gurus do? Imagine you are connected to a very powerful master, connected to the master's consciousness. Usually gurus do not interfere because they understand this matter very well. Whatever you are experiencing in life is because you have earned it. Whether it was earned consciously or unconsciously, it doesn't matter, but that you did earn it. So gurus don't interfere.
What they do however is – they guide you. What I usually do: I say feed the animals, feed the birds, feed the fish and take care of nature. Things like that. And that completely dilutes your weight (of karma). Because annadaan is mahaadaan always. The scriptures have said that, and I follow the same path. So by feeding the birds, animals, fish and nature, much gets released.
Guidance happens very rarely, if you are just a few steps from total liberation and there are not many life times pending, if you have already lived 100 or 200 lives and you have reached a level where you are done with all your lives and you are now going towards liberation. That sign is very simple: if you can understand that you are in a mode when the outside world is not affecting you. It is not depression – do not think that it is depression. With depression, sometimes you are completely cut off from people. This is not depression – though you seem to be enjoying life yet at the same time your dependency on the outside world, like relationships, emotions, people, places, time, materials, position, possessions – is very low. And that's a clear sign that you are already on the path of liberation. A clear sign that you can trust, and there is no need for any one to come and tell you this.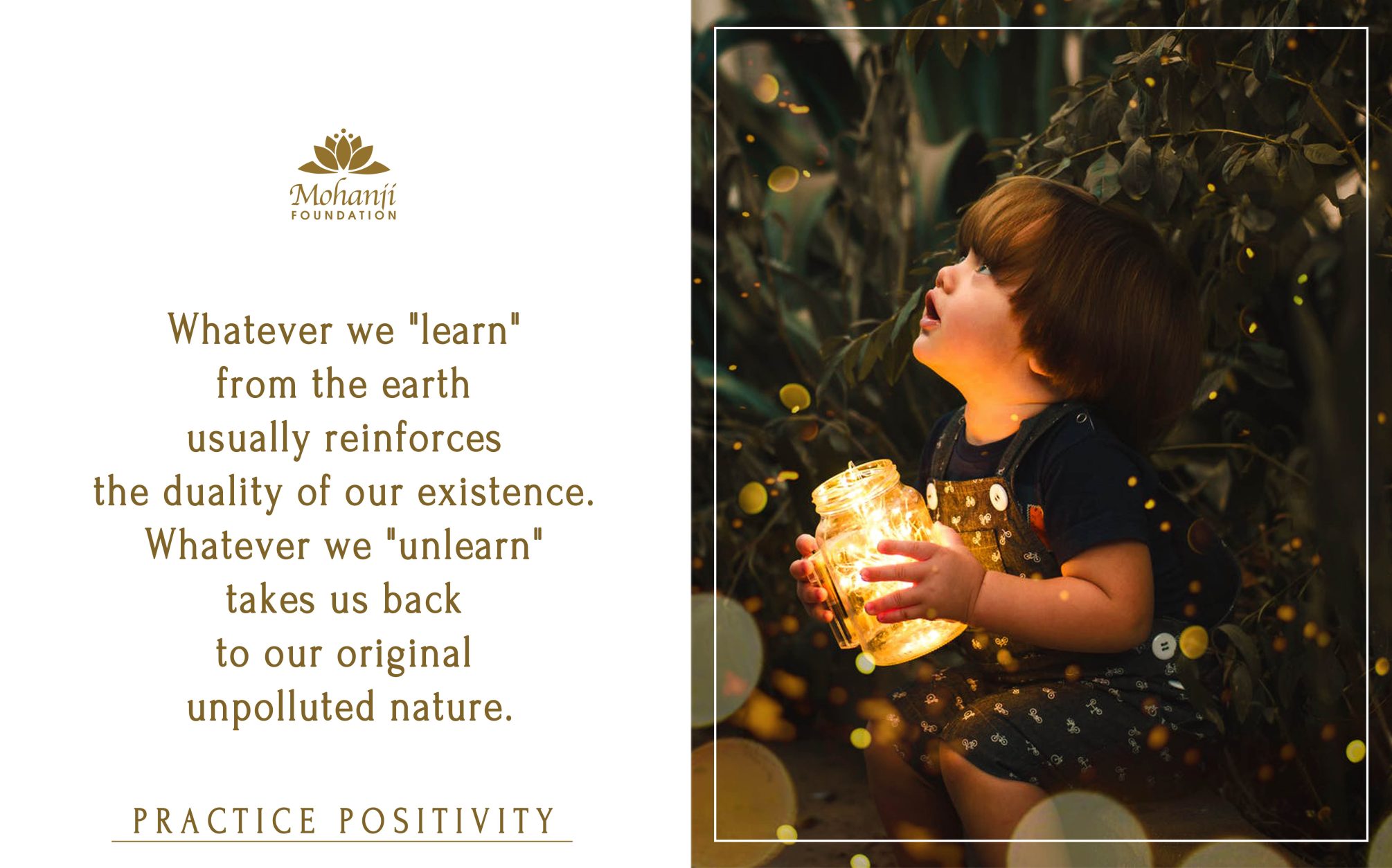 Secondly, your dependency on materials will be very little, including food and water. Forget about intoxicants and other things, even dependency on food and water will be very low. You will eat, but only for the sake of it. That's why I often say, if you eat one time a day, you are a yogi. Two times a day you are a bhogi, and if you eat three times a day, you are a rogi. (Laughter) You know what being a yogi means? A yogi is someone who is healthy and fully attuned to the Supreme Consciousness. Bhogi means a lustful person, born to eat. Third one is a rogi, a sick man. If you consume three times a day, you are sick. Today you can see that most eating is emotional eating. Since we have so many emotions, in order to cover the emotions we eat a lot of food. Not that we want food, it's our way of revenge. We take revenge by eating more, though we may not need it. But still we do.
So what does a guru do?
A guru will guide you, divert you to something which will lighten you, make you light. So that your karmic load is reduced. Imagine that you are in the last stage of something, and you are deeply connected to a master. And the master should be very powerful. See, many people are not masters. When I say master, I mean somebody whose mind, body, intellect, ego and spirit are together as if it is one egg. Not scattered, but one unit. That master is fully occupied in himself – he has nothing to do with anything outside. Those masters can make a lot of changes in us just by their presence. Alignment is the main change. By alignment, I mean that when you come in contact with that master, you will feel completely aligned and liberated – physically strong, emotionally strong, intellectually strong, egoistically 'strong'. I don't mean a strong ego here, it means a balanced one. So this way you will be fully aligned.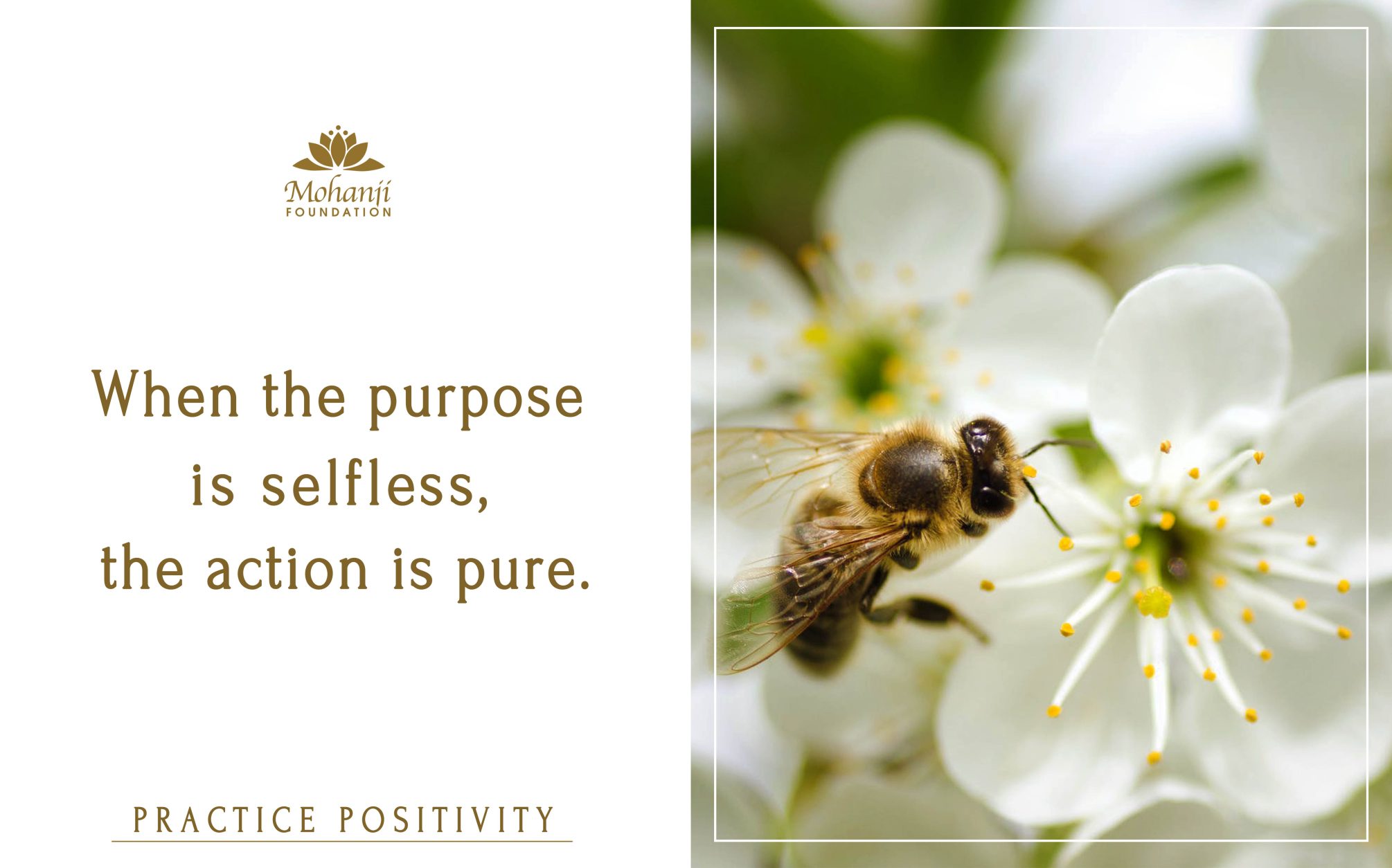 Then what happens? This karmic load suddenly drops. Because the best way to reduce karma is with alignment. What is karma, where is it coming from? Unfulfilled desires, so its natural expression is fulfilment. That is the right way – the normal way. But what if you don't need it? If you have desire but you don't need fulfilment? That happens In the presence of a powerful master, so this karmic load is reduced. That means from 100 it might become 80, and if you still remain connected to the master and your focus is on the master, it will become 60. But you have to be consistent. The secret is that everything should be connected to the master, and it doesn't matter if the master is in the physical body or not. There is no problem if he is not. You see, no true master ever leaves – Krishna is still there, Jesus is still there, Rama is still there. All the great powerful masters don't die – they are already immortal while in the body. What do they do then? They expand, and attain maha samaadhi. Maha samaadhi is the state where they have already become a unit already while living, and they have expanded. Then they just leave the body, which means they give up the body, and then they maintain their expansion. This is how they are in maha samaadhi. Ordinary people die and need to come back to get another body. For great masters, there is nothing to come back to. Even if they do take a birth, they do so only for the sake of dharma, not karma. And in that mode, there may be numerous births, purposeful births.
How do you know if a birth is for dharma or karma? If it is for purpose! Right from the beginning, they are being purposeful. An example is Aadi Shankaracharya. At the age of 8, Govindapaada asked him, " Who are you?" He replied, "manobuddhi ahankaara chittaani naaham….. chidaananda roopah Shivoham Shivoham." If somebody could say this at the age of 8, what could Govindapaada teach him? That is why Govindapaada said, "One who can contain the ocean in his kamandalu (water-pot), is eligible to teach about brahma jnaana or knowledge of Brahma. It can only be taught by one who can contain the whole ocean in a kamandalu. That means the macrocosm can be contained into the microcosm. And when you are realizing the macrocosm in the microcosm, then you can teach about the macrocosm. This is exactly the point.
So destiny decides the duration of life, birth and death and it has a duration that is unchangeable. But as per your shift of awareness, the impact becomes lower so that number of lifetimes must become fewer. This is the short answer to that question.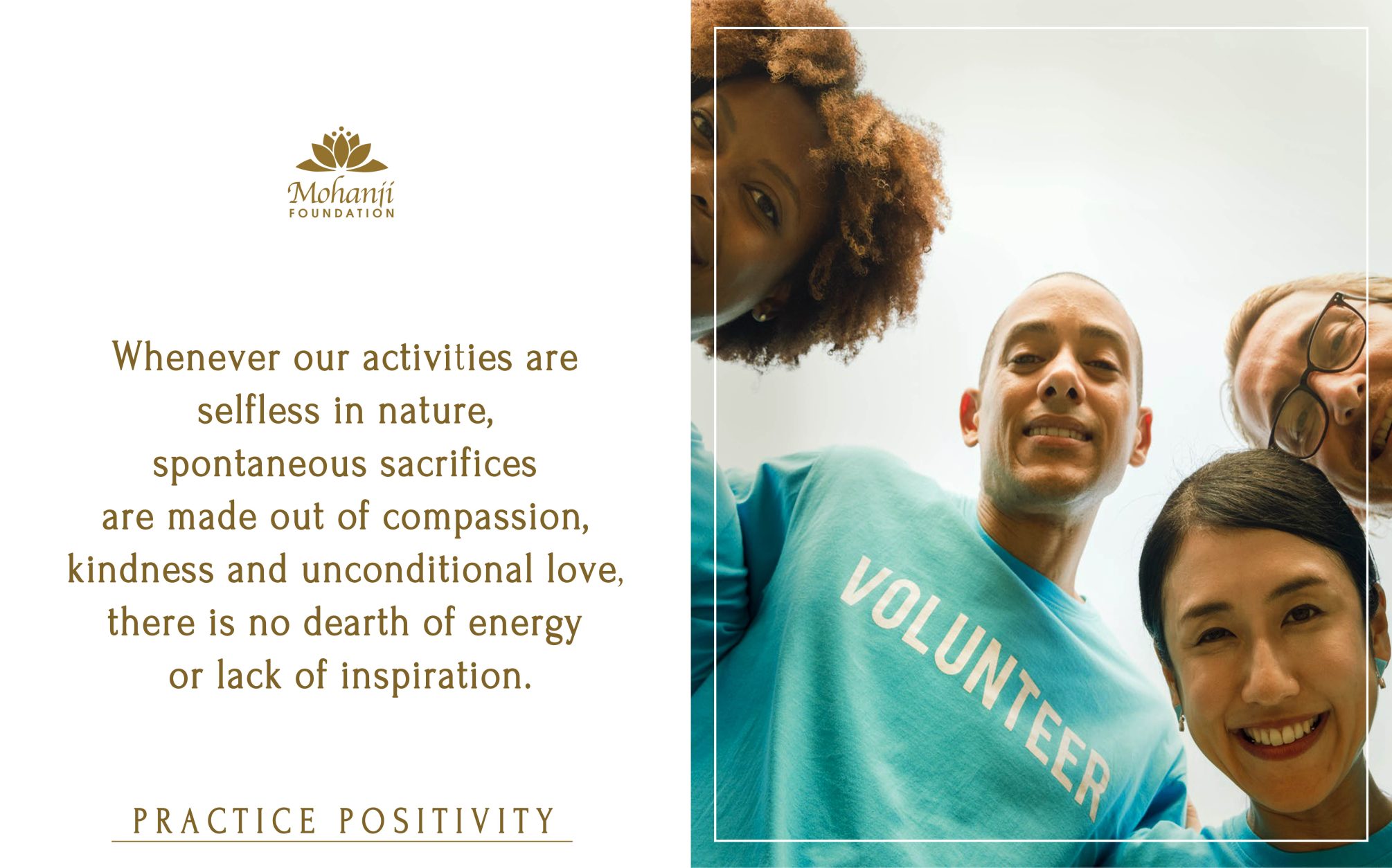 Q: You spoke about lineage and pitr dosha – is that something that can be eradicated? Is it is like a loan/burden that you have to carry alone no matter what, and go through suffering? Can it be taken away?
M: Dosha is always connected to injustice or atrocities. What can be seen to happen in all families is that three generations or more (up to 5) are flourishing, then stabilising, then declining. Then from utter poverty they come back up to reach a status, then they maintain that status for some generations, and then start to decline. This wave pattern you can see. So with this whole picture in mind, imagine that some people, who when they were in the powerful stage, insulted or harmed many others. For example, somebody is running a money lending company, and because somebody could not repay their loans, he probably seized their houses or possessions or property. Though this would have been part of his business, yet he carries the karma. When I take something from your pocket to my pocket I also transfer the karma that way, unless it is a transaction. Actually what is allowed in the scriptures is that when you get something, you give something – then it's closed. But that we don't do, we only look at getting something. So there is an accrued interest connected to it. And nobody can repay it like that unless they are living a very disciplined life. In our family, you will see some people who are highly liberated – they do not accumulate or take anything from anybody. Instead they are fully benevolent and giving, so they will bring good things, brightness, into the family. Some people are right the opposite. They don't care about others, they cause harm, they talk bad about people, they disturb, they destroy. Also all those things happen to some people. All these types of people are in the lineage. So this collectively becomes pitr dosha.
There are some things that can cancel pitr dosha. Like when some people do a lot of good work, it auto cancels some of the bad effects. Then finally what is pending distributes over everybody – it's almost like you have a huge property/land that is divided over many people, and you get a piece. But the original property is much bigger. What you receive may be small, but you still get it. Now the "papers" connected to this may not be clear, the legal bindings etc – all those things you will still have to handle right? Because it has come to you. Similarly (karmic) inheritance is like that.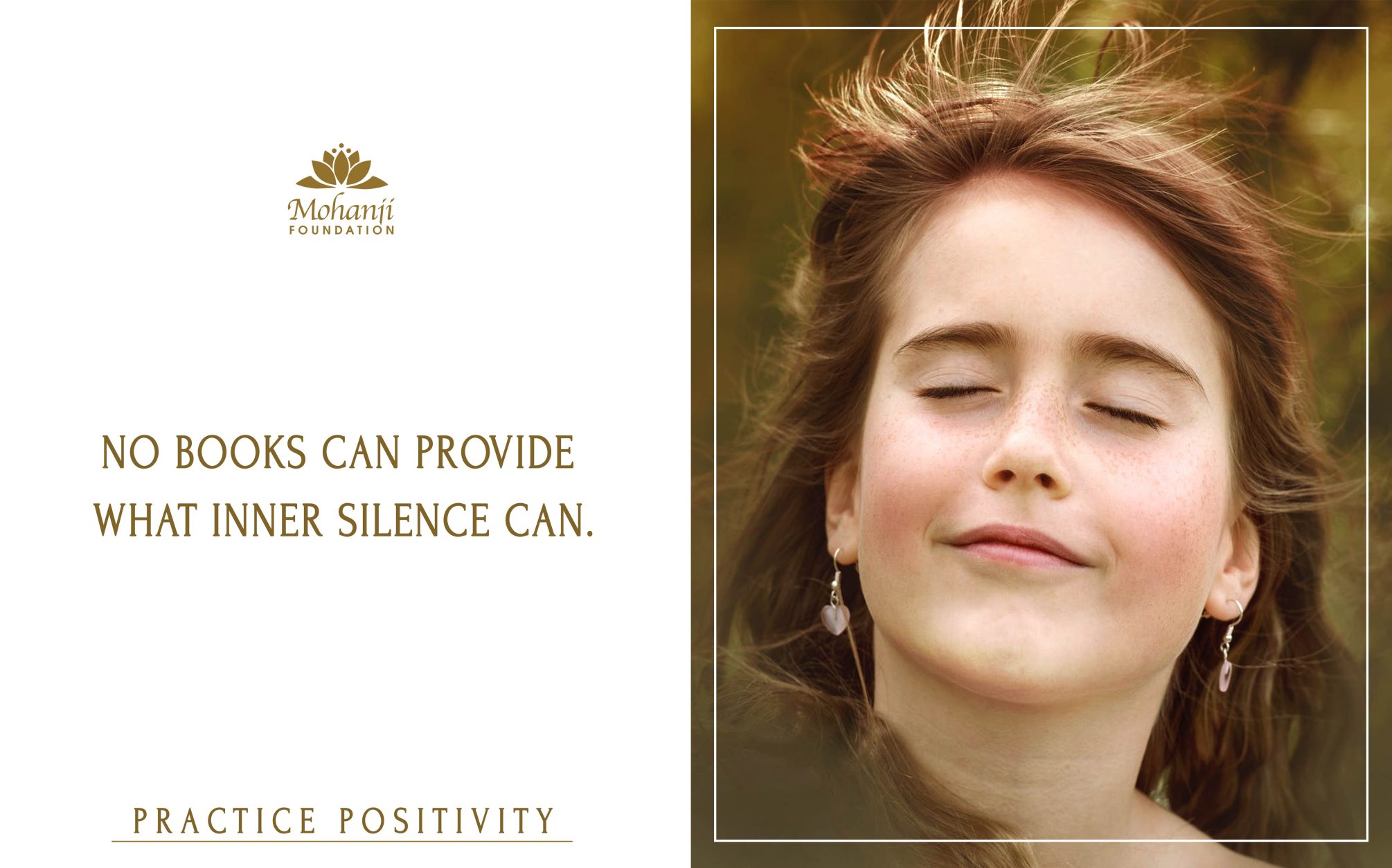 But the best thing you can do is to do something good all the time. I tell people very simple things. First, when you have a house, make sure that the creatures around your house have eaten, before you eat. Give food to the birds, insects, and animals. Then after they have eaten, you consume. That way you automatically dilute a lot of karmic burden. If you continuously do that, you will actually be light. Secondly, always be benevolent to people. If somebody says, "I'm hungry", first stop and feed that person. Give them food. I don't really recommend giving money – because sometimes they go and drink alcohol. But if someone says, "I'm hungry", don't worry who it is – give them food immediately. Feed that person. If you follow in this way, the lineage karma becomes much less, the burden becomes less. Eradication may or may not be possible, but the weight will become less. This can be really taken care of.
I would say that a disciplined life is a good idea. It's not about how many times you went to the temple, how many gurus you met – it's not like that. It's about a lifestyle, an attitude, an attitude of giving, of sharing. I usually don't recommend giving money to people, because we don't know what they might use it for. But you can give in kind – give a sandwich for example. Once Devi and I were in Belgrade on a very cold day. We were feeling hungry, so we thought of going for a sandwich – a vegan cheese sandwich seemed like a good idea. While I was sitting outside the shop, she went inside to pick it up. I saw a man and he was walking towards the cars, as the red light was on. And on all the cars the window glass was raised. It was very cold, maybe about 2 degrees, so nobody was pulling the glass down and giving him anything. He was going around, then the light would change and then he would have to come back and sit down. I saw this happening a few times, Devi was inside ordering the food so I went inside and told her to get me one more sandwich. She brought it and I gave it to this man. He said since the morning, nobody had given him anything (it was 2 pm). Nobody had even wanted to bring the glass down because of the cold. And that was the first meal he had eaten that day.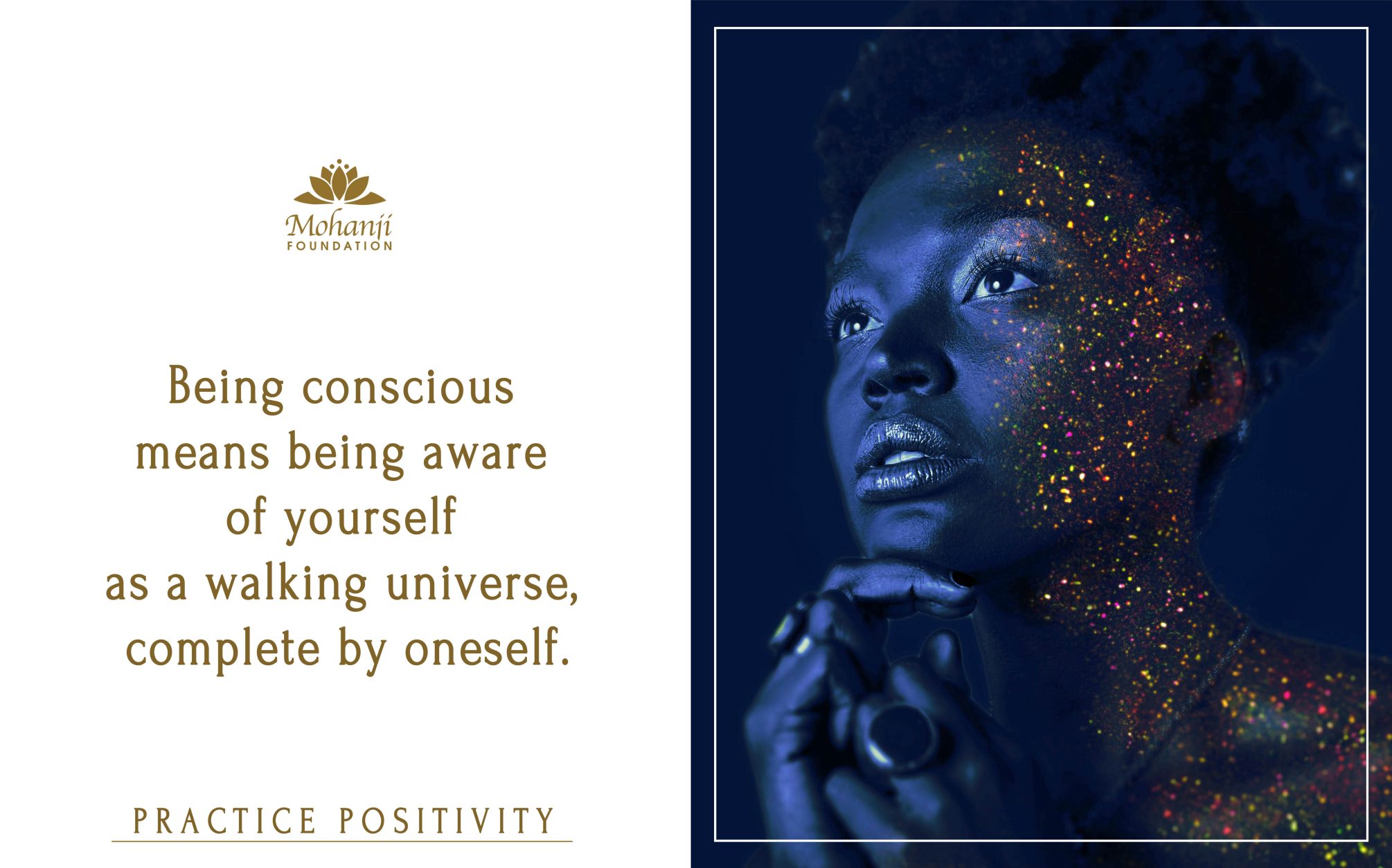 So these are the type of things you can do. And if you look around, you will see – there is no dearth of this need. I would say this is more important than the organized sevas. You know sometimes you do organised seva, the people may not be deserving too, they may be thinking, "Since you have brought it, I will take it"… So I will say that this type of (spontaneous) seva is more important and this really dilutes your lineage karma. If all the people of the family do this, just imagine what a lot of grace will be falling into the family. Grace is connected to your openness, to your faith. Faith opens doors for grace to flow in…
Transcribed by Sjarn Mansoor
Proofread by Geeta Iyer