Zoom Satsang 7 July 2019, part 2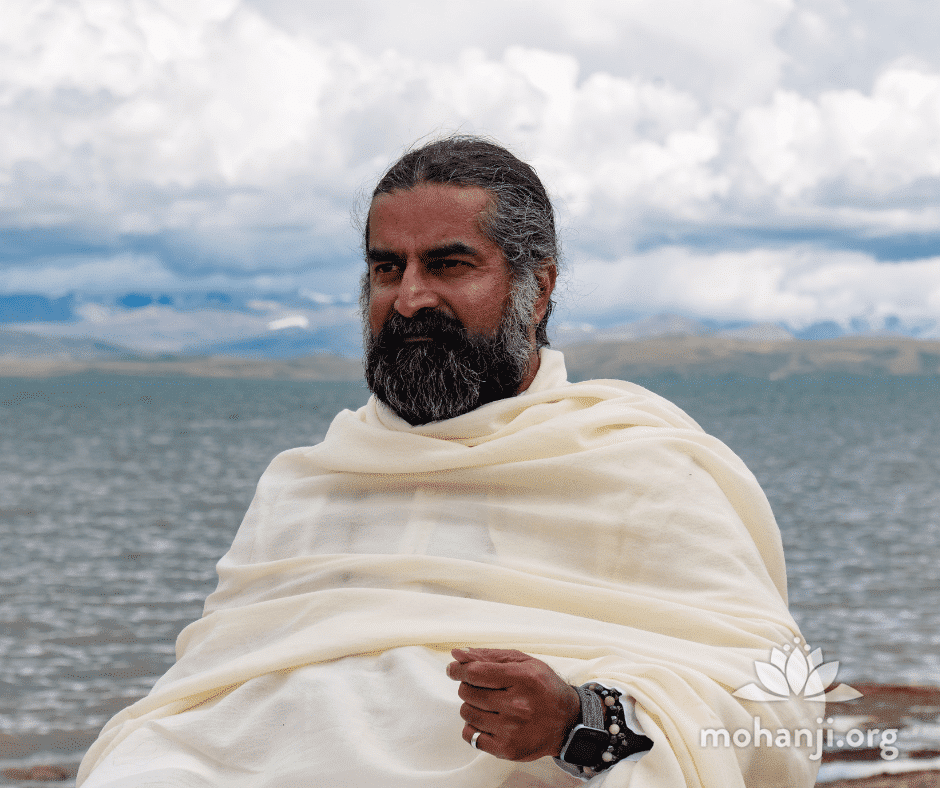 Question: Can people who do Kriya regularly, but are not an active participant in the Foundation or have the need to be in close physical proximity to you, still evolve spiritually?
Mohanji: Physical proximity is an illusion. By sitting next to me you probably may not gain a lot. If your mind is connected to me wherever you are, if your mind is connected to me, you are with me. There are a lot of people who might be around me physically, but their mind is elsewhere, those people are not with me. So the connection is always the connection of the mind. When we see our parents, our grandparents, our relatives, when our mind is with them, we are with them. When the mind is elsewhere, we are not there. Many people live together but they are not close, and you always see that in life.
When we really love somebody, we will whisper, when we do not like somebody we shout. See the tone of our voice. It's mostly connected to the depth of our affection. You can almost take it as a benchmark. When you are shouting, screaming etc. means you're already separated. When you're really close to somebody you'll be whispering, that expression will be there.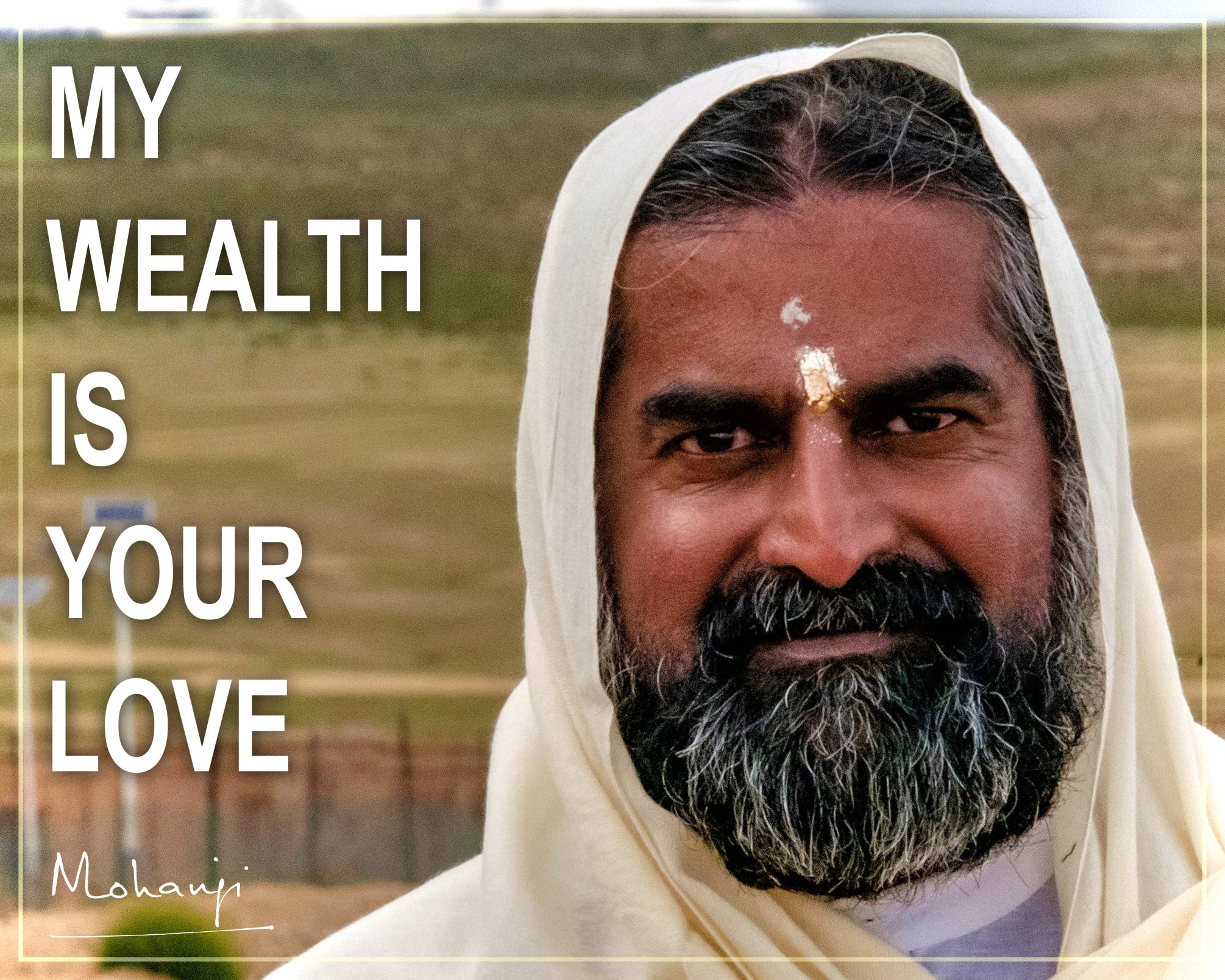 Kriya is a tool. It's a method to stabilize and align yourself. A child who is born is already aligned. There's no alignment needed. What are you aligning? The mind, intellect, and ego called mind matter. Mind matter is the faculty of perception. That is how we see the world. There are millions of things in this world. To experience them we have the mind, intellect and ego. Of course, through the senses eyes, ears, nose, mouth and skin, we experience life around us. And to actually feel it, we have the mind, which is the emotions, intellect, analysis, ego, and the personality through which we experience life. We feel life, we relish or we taste life.
In this mode, what you actually are, that lack of alignment is when it's all spread out. Body is already aligned, spirit, the energy which operates the body is aligned. Mind, intellect and ego are all over, sometimes in the past, sometimes in the future, and hardly in the present. So we are bringing this mind, intellect and ego together. Body, mind, intellect, ego and spirit together, you become one unit. At that point in time, when you look, the whole faculty looks. Otherwise, your eyes will be looking and if the mind is elsewhere, you don't see. If your eyes are looking and your mind is also looking through your eyes, you experience reality. When you're eating food, you're consuming something, when the food is in your mouth and your mind is with your tongue, then you actually feel the taste of the food. Otherwise when you're eating, and your mind is on the TV, you're fully occupied, eyes are on the TV and the mind is on the TV, you don't even know how much you ate.
Your life depends on where you're focusing. Where your mind is. Kriya and all the meditations and the numerous methods are all to align yourself to a level where you are fully there, right now, right here, all the time. This is in waking-up time. In the dream state you have an active state but you don't have any control over that state. In the dream state, the data which you are using is the stored data, what you've collected, or what is stored inside. They have all come from experiences. Experiences become a memory, the memory becomes an impression, the impression gets stored, and they manifest in the screen of dreams or in the screen of waking state. Deep sleep state is the same as the death state, you don't even know whether you're a man or a woman, you don't know the time or space. You're completely dead, then you wake up in the morning, again you are a personality and that personality is maintained by the ego. I'm so and so and this is my existence. I'm connected to all my positions and possessions and relations. All these things come when you wake up. When you're dreaming, that's all different. Probably you are the president of America in your dream. So the boundaries change, things change. Everything changes in the dream state and the dream state sources from what is stored inside. The waking state is connected to the world outside, usually.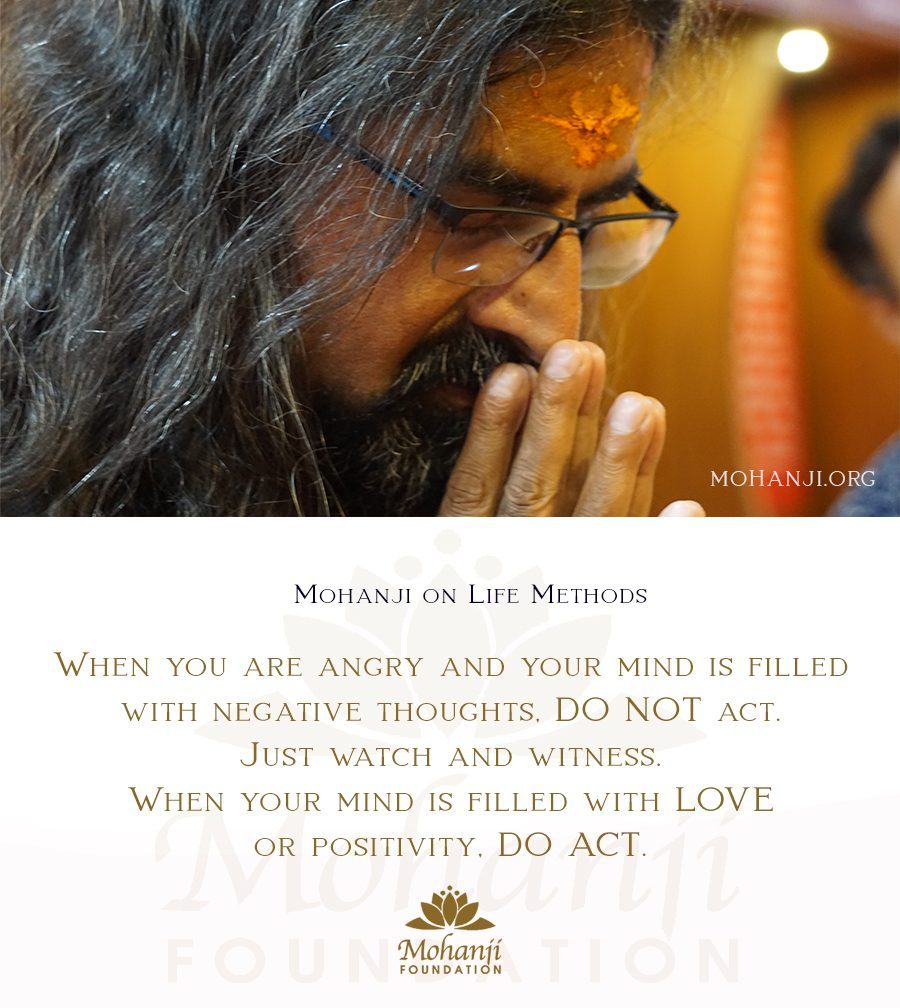 That is why at that point in time, meditation is very important. That means while in the waking state and being awake, you're turning the mind, intellect, and ego, within. When all these faculties are turned inside, that means the senses are closed, there is no world outside, while awake with awareness. When you are focused inside, all you see is what you have stored over a period of time, from your experiences. Experiences have their connection to actions, thoughts, and words, the chronology of life.
To cut across all this, to think vertically, you're connecting to the higher awareness through a Kriya or meditation and all these things. If you are doing that, it is for you. Now your connection with me, it is called integration. That means you identified Mohanji as a person who's stable or who's aligned, this is probably what brings you to me. If you are aware of that, and you're thinking about me, remembering me, or connecting to me with your mind, intellect, and ego, whichever faculty or mind matter, then you are with me. You don't have to be physically with me, and by physically being with me, there's no guarantee that you are actually with me.
Also, I am not insisting that you should work within this Foundation, I only say be good and do good in your society and how much brightness you can bring to your society, in your neighborhood. That's all you need to do. You don't have to do through the Foundation, through anybody. You can perform the way you can. That's why I said to feed the birds; feed the animals, people, the sick and the old. Do whatever you can in your society to enhance the lives of people and the beings around you. I call everybody people. There are people of every species. Every species has a personality. A cat has its personality, a dog has its personality. All beings have their personality. When a being has a personality, it's a person. A person has a personality. So by being available and being useful to this society, you are being with me, you're connecting to me, that's the activity which I'm asking you to do. I'm not asking you to be in the Foundation or to operate only through the Foundation, but it will be helpful because in the Foundation people inspire each other, they all support each other, and you will understand, okay, this is what we're doing in the world.
As I said, this year, the main theme is practicing positivity. That is because so many things are negative. You open the newspaper or on the TV, and all you see is negative news. People killing people, people on the verge of war, people not agreeing with each other, they are shouting and screaming and making life miserable. This is what we see in this world. So how do you stay positive – through acts of positivity, through positive thoughts, positive words, and positive actions. That's why I said this year the main practice is practicing positivity during waking hours. So that your self-esteem grows and your value in this world increases. And in that mode, you are being very effective in this life.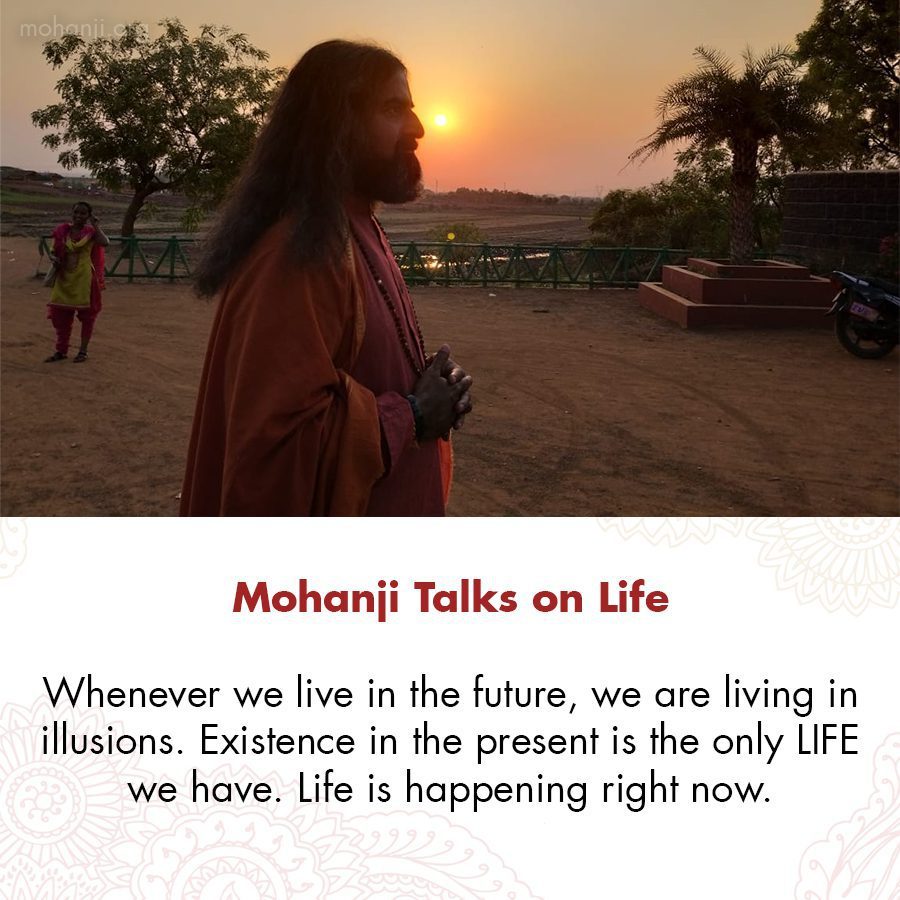 As I said earlier, the effective years are very important. Effective moments are important. Effective time is important. Effective time is when you are actually available for this world outside and you're delivering. Not when you're eating, drinking, sleeping and you're just immersed in your own activities. See, that's very comfortable. Today, the world has shrunk to a tablet or a mobile phone. Our world is a mobile phone. We don't even need eye contact. You don't have to look at people and you are very happy to be emotional with somebody by sending some emoticons. We just send the sign of love and we tell people we love you. If you hate somebody, you unfriend them from Facebook. We have actually made our boundaries so small, we have become more and more introverted. And this has actually made an insensitive world. Today's world has become very insensitive.
When I was growing up, there was no tablet or mobile phone so we had some time together with other children. We played and we had some time outside. Whether it was extremely effective or not effective, there was a public relation, there was an interaction. But today, this is where it is. Our focus is on this phone. And we are happy to fall in love through the phone, divorce through the phone, talk and not talk, convey our anger, hatred, and jealousy, through the phone. Everything is all virtual. In reality, we don't even look into the eyes of people. We are afraid to look into the eyes of people. We don't know what we will see and rather not look. Technology is amazing, because of technology we are seeing each other. I'm sure you're all sitting in various parts of the world. And you are listening to me, we are talking because of technology. So that's a good side. But then we also have the same technology that has actually controlled us and taken over our lives. We must understand this also.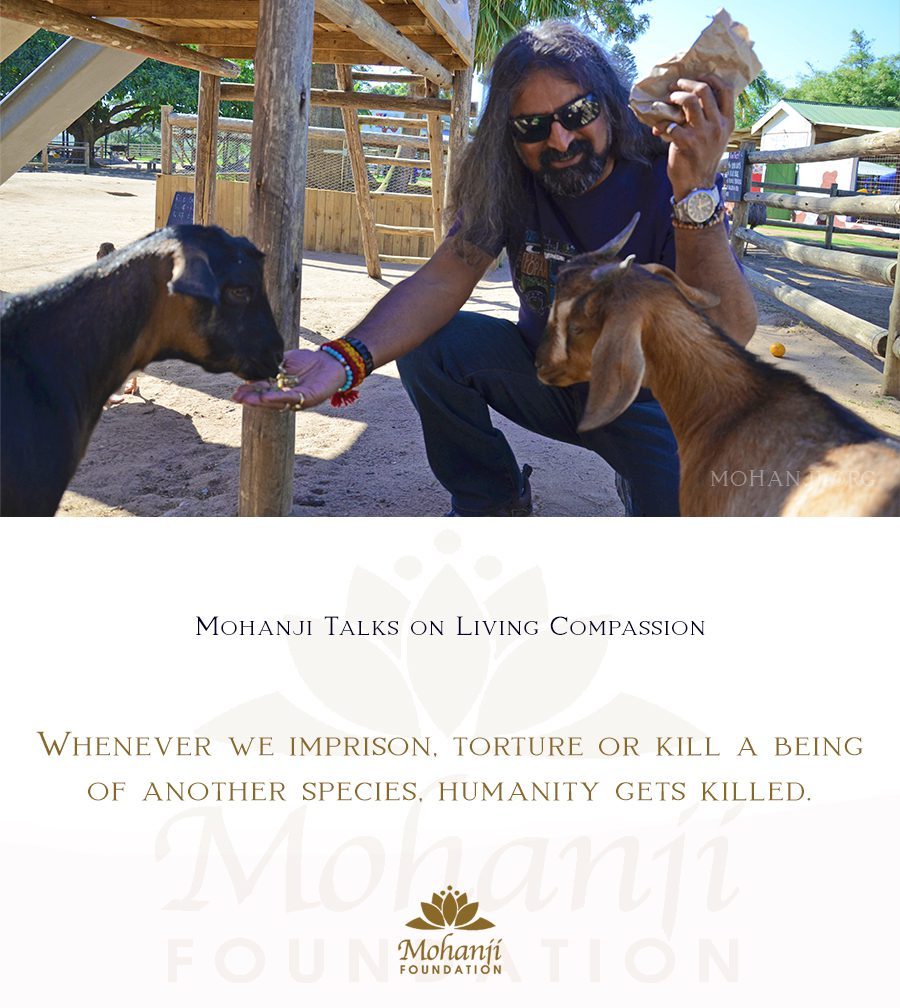 This is why aligning with oneself is the best you can do in this lifetime. Mind, body, intellect, ego, and spirit together as one unit inside. That means you have become a total unit, you are not in the past or the future, you are right here right now. Then automatically expansion happens, the consciousness expands. The unit spontaneously becomes the universe, that is God-consciousness. Then it actualizes, that's the state of samadhi we talk about. It transcends the waking state, transcends the dream state, transcends the deep sleep state and it enters into the zone of turiya, the fourth state where you are witnessing all the other three states. Then you transcend further to the turiyatita state, where you're witnessing even the turiya state.
As per your witness-hood rises, your expansion happens spontaneously. Then you are not expanding the situation, your position, or what you are, it spontaneously grows, it expands. So the point is, if your connection with me is firm, then no question. You're thinking about me. You're remembering me, you're connecting to me. You don't have to do anything else to connect to me. When you're plugged into the socket, you will have electricity, like that. You think about me, remember me, you're connected to me. Activities are all for your sake. No God or Guru says that you should do this or do that. No God is waiting in a temple so that you can come and see him, nor the idol in any place of worship for that matter. No God or Guru is dependent on anybody. When you talk about a Guru, that only means an aligned personality. When you talk about a God-man, he is somebody who has expanded himself and he only sees his reflection in the world. That means he only sees the energetic plane, not the physical plane. When they look at another person, there's no other person, only their expressions. And they always feel that.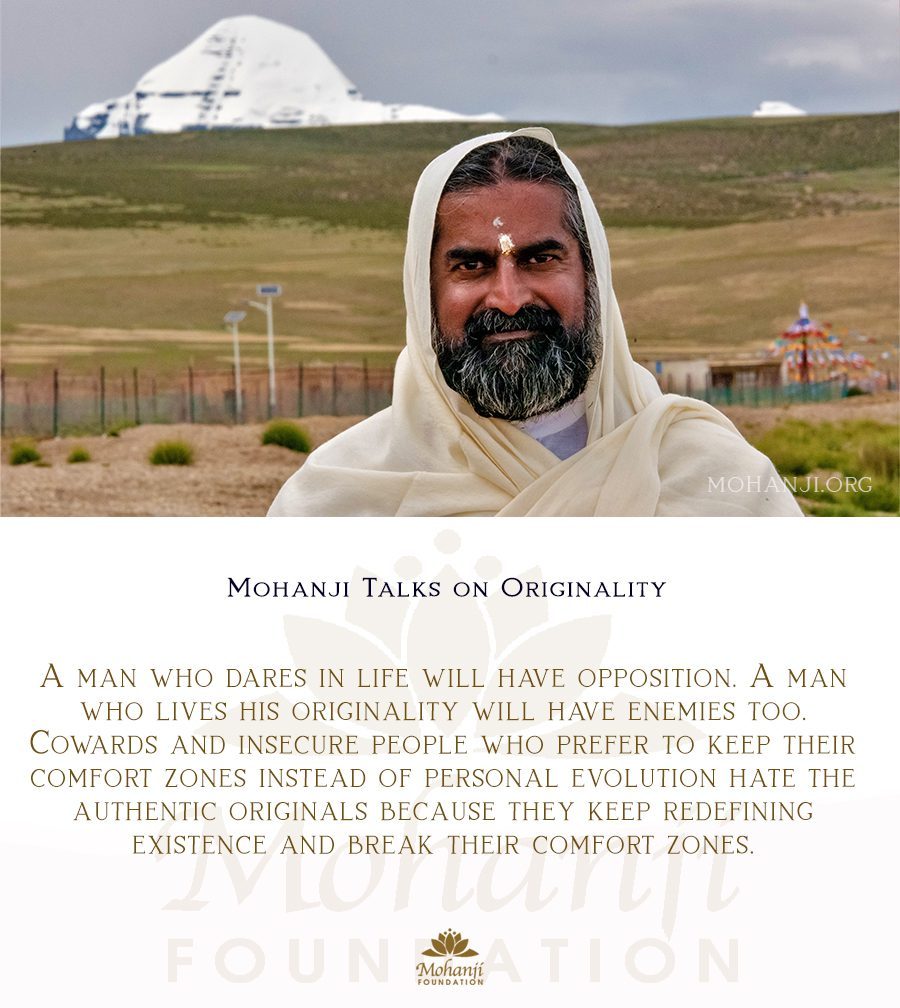 Karl Marx said the same thing, your personality overflows from yourself and merges with the personality of the society, you see your own reflection in everybody's eyes. It's the same philosophy, here energetically we are connecting to all the people. We see everybody, as expressions of the same consciousness, we are all one. Then we feel that it's myself in another body. Each personality has a relevance, a purpose, and also time and duration. Understand that you are expressing the state of God, where God never interferes, just like your soul. The soul is like the petrol in your car. It never cares about the destination, but it aids your journey. If there's no petrol, you can't drive a car. If there's no soul, we call it a dead body. God or the soul has no interest in your life. But it helps your life. Electricity has no interest in your refrigerator or washing machine, but it's essential to make them perform.
Just like that, when you are always connected to me, and you have always been connected to me over lifetimes, you might be connected to me in the future lives also. I as a person have duration, this body will also die, I may die someday in the future. But that doesn't stop the story, the story will continue, the energy will continue, the presence will continue. And that's exactly how it is. How do you make sure the presence will continue? Stop existing for yourself and start existing for the universe, your immortality begins there. The journey or the path of immortality starts there. The less you're living for yourself, the more you're living for the world. The more and more you live for the world, you become the world and the world becomes you. Otherwise, it's a very unit existence, small scale, where you look at a picture and think you know this person, but you have no idea who they are. A picture only tells us about a form. But there is an energy, there is a purpose, there's a reason, and there's a duration, we don't see that.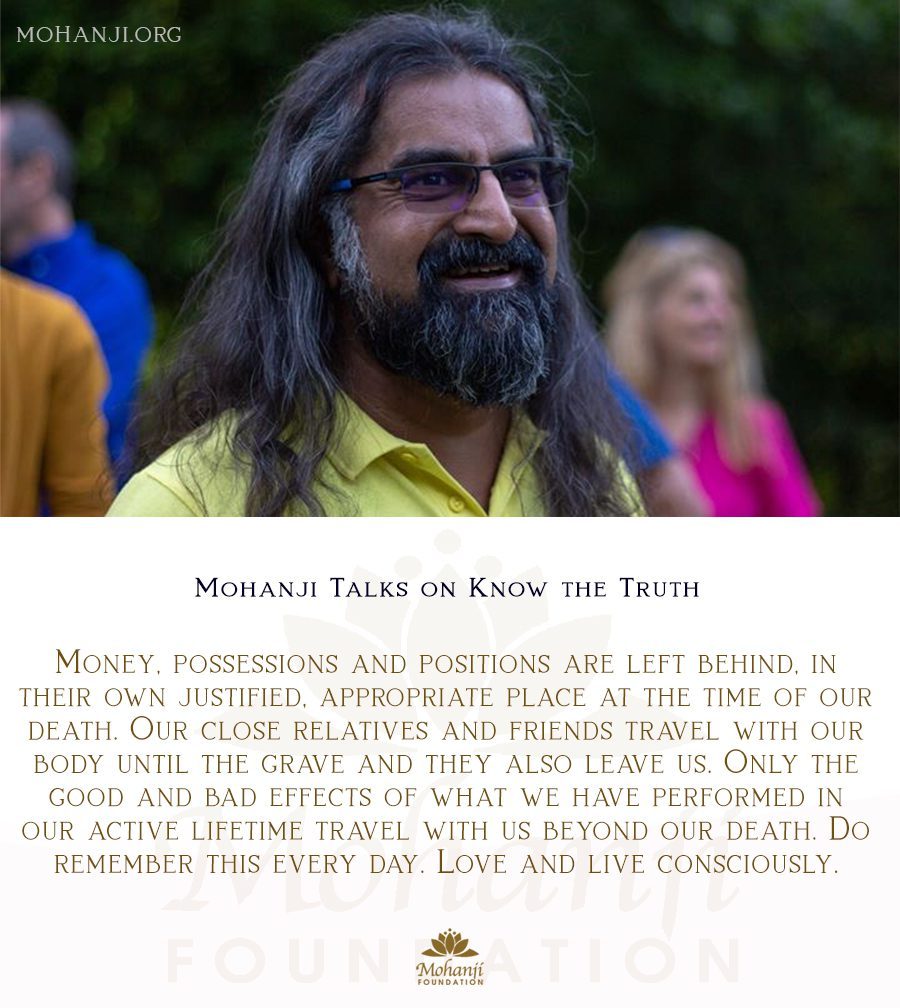 When you are connecting to somebody, try to connect to the energy of that person and you will see yourself. There's no difference. Everybody is the same. All the people are the same. Nobody's higher, nobody's lower. I am not special. I'm the same as you are. But the thing is that I decided that if I am breathing, my heart is beating, it will be for the world. I do not live for myself. That's the only decision I've taken. I chose not to have material richness only for myself, I decided that I will share my riches so that everybody becomes rich. When you are connected to me, your practices will help you align yourself more. All your practices are for aligning yourself. Be aligned, become a unit and spontaneously you will become the universe, there's no effort for that. The effort is to bring your scattered mind into you. Bring your mind away from all your anxieties, fears, skills, phobias, all those things and come inside.
But please understand, the compulsive habitual memories, which you have collected over the past will definitely try to drag you outside more and more. When you go to a restaurant, you taste the food, the food is great. The next time we feel again, oh, I would like to go to the restaurant. Because memory compels you for that action. This will be there until and unless after a while you lose interest in all those things. If the food is there, it's fine, if it's not there, it's okay. You are not occupied by a place, a time or a relationship, anything. Everything is fine. But at the same time, you're always remaining unbound, you're not bound by anything. At that time, freedom starts.
Freedom happens only when you are unbound. If you can't detach from anything, all your relationships are real, all your possessions and positions are real, then everything is real. Your connection with all that is real, it has to be. But at a certain point in time, that connection changes, the flavor changes. And you say okay, I'm fine, Fine as myself in this incarnation, and all the external factors are only complementing this existence. That awareness will come, that awareness will grow, and then you realize, I am Mohanji, and Mohanji is not separate from me. When you feel yourself as awareness, you will know that you are connected to me.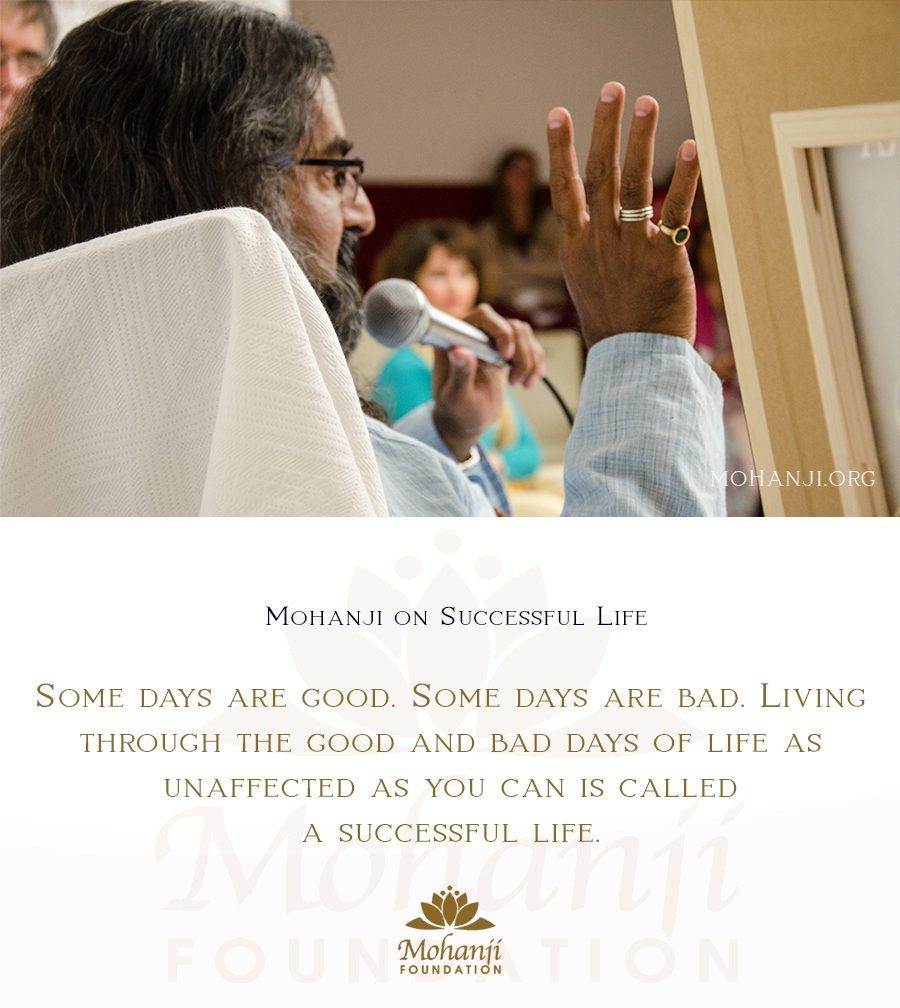 When you feel yourself as your mind, you may connect, disconnect, connect and disconnect. When you look at me through your mind you will never understand me. But look at me through your awareness, your own awareness, you will see me there. That's why I said my place is within you, not outside of you. If you see me outside, you're not connecting, you're connecting to a man, a person, a personality and that's temporary. Because, I may also die someday, sometime soon. So this is not the right connection. The connection is that connection to the consciousness, the energy, where you see me inside you, just like you're not a picture on your wall. And then what you see inside is the real you. That means I live inside your heart. I stay there. And then you see that there is no Mohanji outside. There is no Mohanji, it's me, and it's all us. It's all one consciousness in many, many bodies. Many dimensions, even a tree, a plant, a bird, an animal, you see your own reflection in everything. So everything is you, that is the truth.
That integrates you. That will make you stable. That will completely stabilize you. Then we have no separation. If you connect with me with your mind, you will compare, you will analyze, you will judge and then you will separate, it's a matter of time. If you're connecting to me with your heart, we will have no separation. Those people who love from within, never separate. People who connect with the mind, then it's an option. If you connect with the mind, mind changes, relationship changes, that is not permanent at all. Connect to me with your heart. And don't change your mind or let the mind change. Don't be affected by the mind. Let the mind do whatever it takes. You don't have to worry about it. But your connection is real, connection with me is real. Whenever you look at me as an option just understand it's a matter of time before you leave. Because it's an option.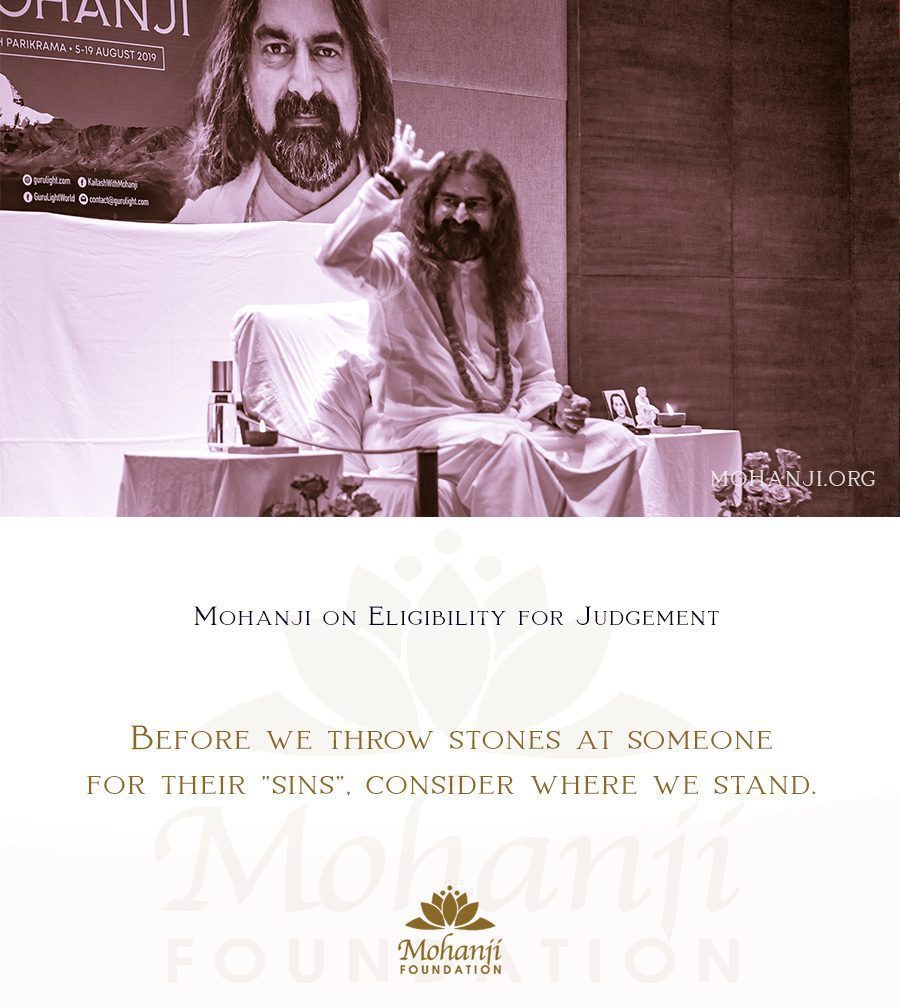 Also, when you look at me in terms of an expectation – expectation and option are same – if the expectation does not happen, something was not delivered as per your expectation, or the delivery did not happen as per your expectation, understand that delivery always happens as per the eligibility, not as per expectation. And if you think of something, I want this to happen through Mohanji and it didn't happen, then you will separate. Because expectation came in the way. Expectation leads to disappointment. Disappointment leads to estrangement. Estrangement leads to confusion, confusion leads to a lack of self-esteem. Delusions, anger, hatred, jealousy, and revenge can all happen. We can slip as if going down the slide all the way, to an utter despair situation. Check your expectation, okay, I have surrendered it. That's what Lord Krishna said. You have the rights of only your action, not on the results of your actions. Because the result is not in your hands, that's as per your eligibility. Results happen as per your eligibility.
You have control of your actions. Control means you can act or not to act, yes or no. When you act, do your positive action, give your best, and leave the rest, then everything will happen. So, your connection with me if it is from the heart, guaranteed, there's no separation. We will not separate. Imagine your connection with me is from your mind, then it's just a matter of time because all the comparisons, expectations, disappointments, anger or hatred, anything can happen. Always understand, when you're judging somebody you have not connected with that person. This is one benchmark you can look for. Have you judged people, have you criticized people, have you compared people? These are all from the mind, you're not connected from the heart. If you really connected with somebody from the heart, you will not judge them. You will not criticize them, you will not even think of them as separate, you will accept them. There will be perfect acceptance.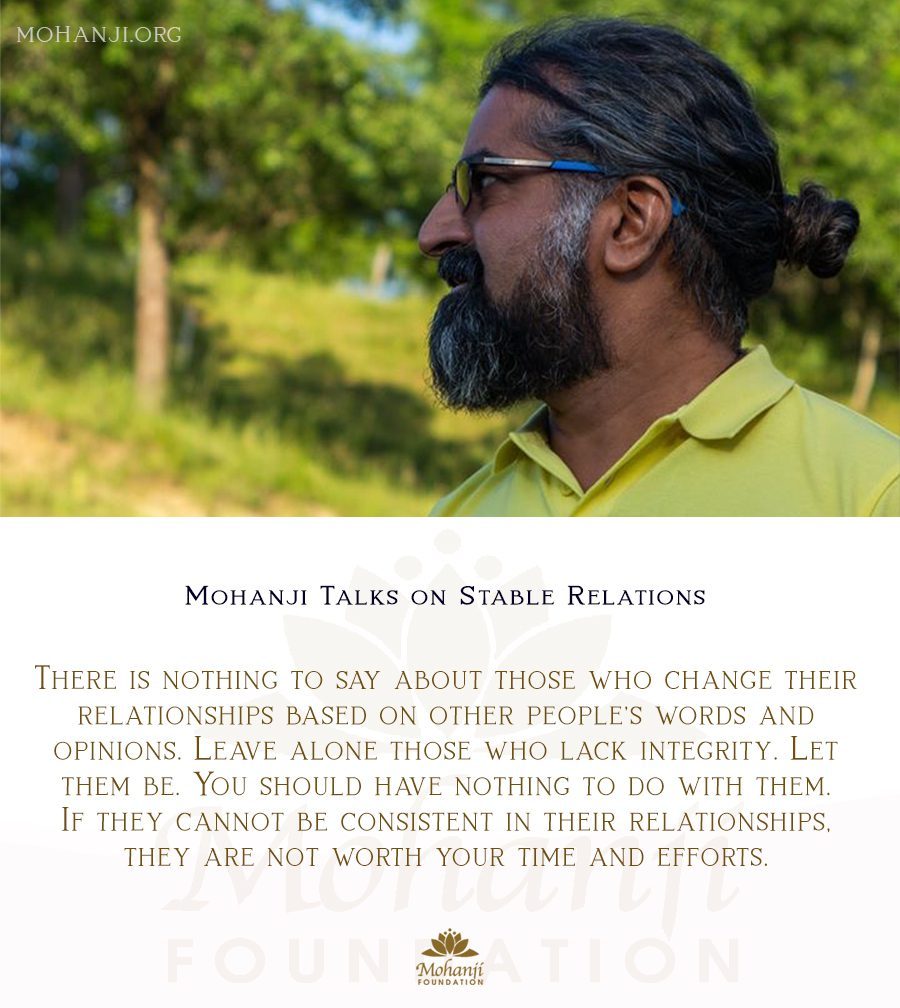 For connection with the heart, the benchmark or the sign of connection is total acceptance. If the connection is from the mind, you will have all these things. Look at which faculty you are operating through. It's important and interesting to see. You might be thinking, oh, I love this person, I really like him. All those things you will say, but then ask yourself, How am I connecting? If you're connecting from your mind, understand there will be separation sooner or later. And the mind is never stable. The mind is a monkey mind. It keeps changing. Based on which, your relationships changes, the flavor changes, life changes, opinions, all these things change. Based on this, your relationships also get affected.
Remember this very clearly, if you're connecting with your heart, it's total acceptance. When you accept somebody, you must first and foremost accept the weaknesses of the person, not the strengths. We all love to portray our strengths. And also, we all love to accept somebody's strengths. But it's the weaknesses that we must accept. Everybody has weaknesses, everybody has strengths, and we are all a mixture. Don't go for perfection. Perfection is a completely hypothetical thing. It's individualistic, based on capacity. Everybody may not have the capacity to do everything as per everybody else's expectation. It is impossible.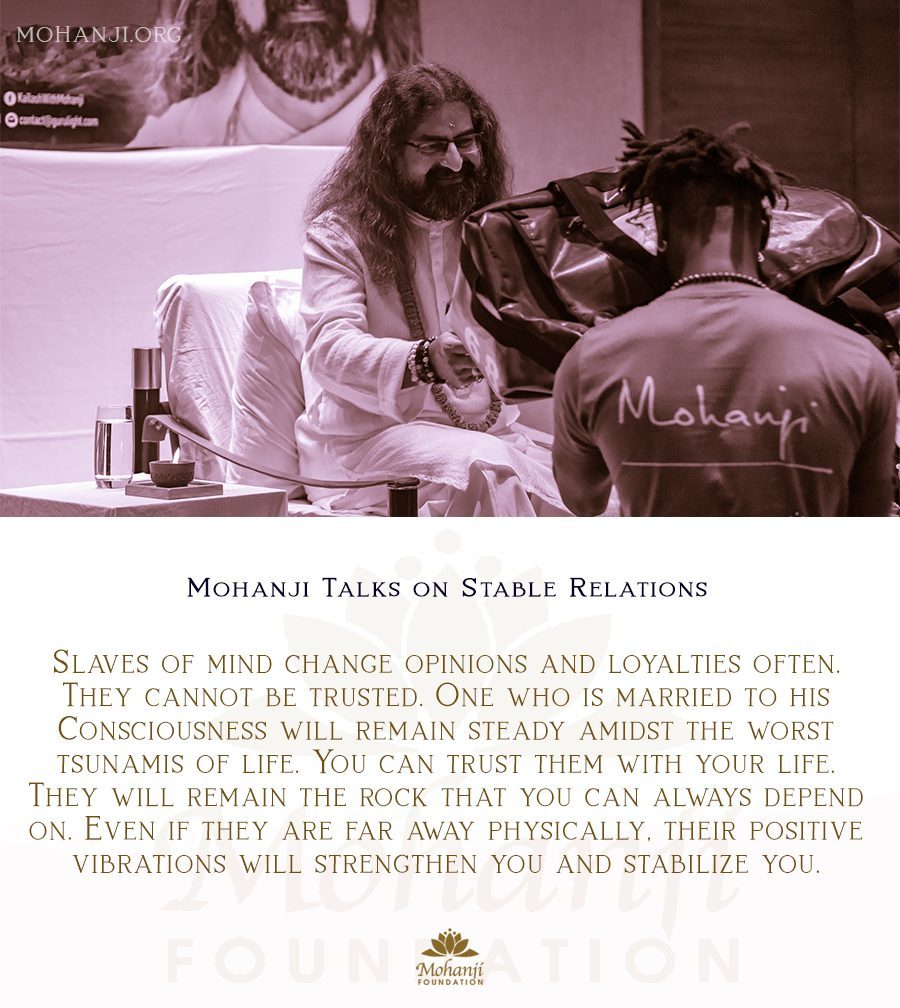 Each person delivers into this world as per their own inherent capacity. And that's the only thing you can deliver, only based on capacity. Imagine I can lift 100 kilos of weight. I tell you please lift 100 kilos and your capacity is 20 kilos. How will you lift 100 kilos? So, based on what you are, your orientation, whatever is your capacity, you're delivering to this earth, and that should be accepted as it is. Don't say oh he's very poor, he can't lift 100 kilos. That's our notion, our comparison. That's totally not the right way to make these connections. If you really like somebody, connect to them from the heart and don't judge, don't criticize. Accept them as they are with all the good and the bad. Good, bad, ugly, everything. Let it all be there because that's a personality, that's their orientation, The personality of what they are. Take them as they are. Then everything will be stable.
Wish you all a great Guru Poornima. Keep shining bright, the world needs light. Lots of love. Thank you.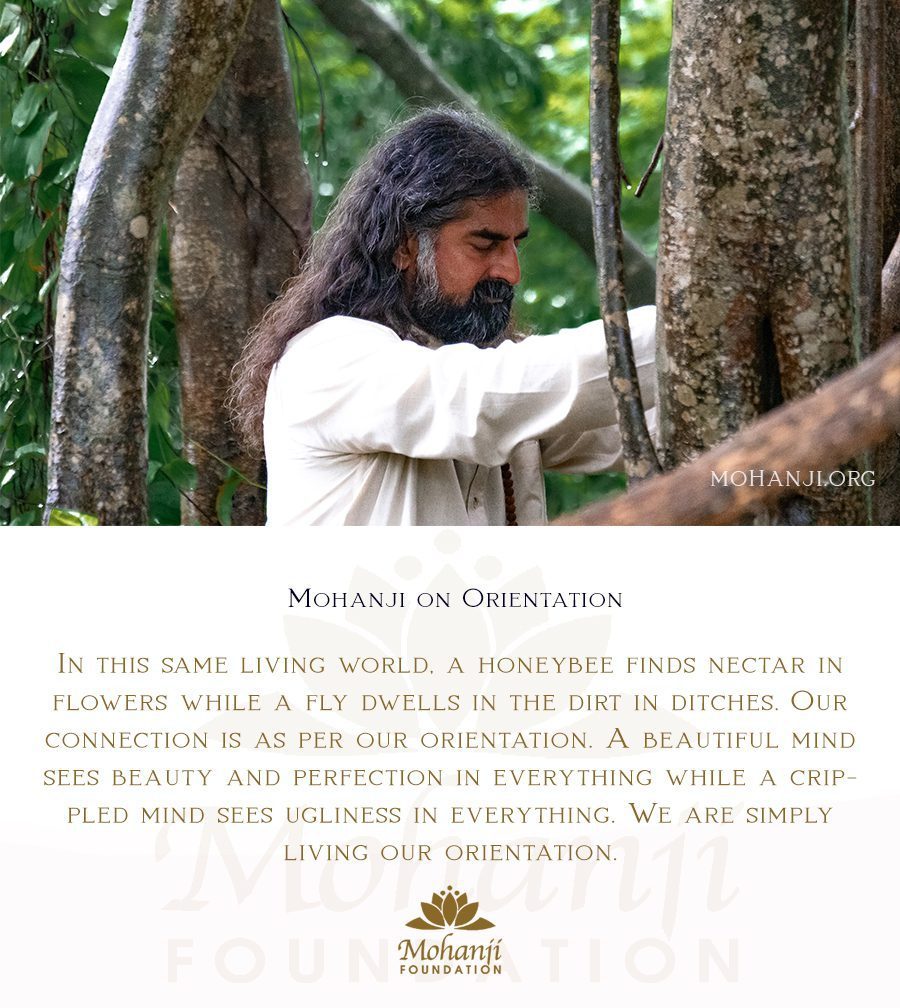 Transcribed by Kishore Mundanat
Proofread by Shyama Jeyaseelan